Funfetti Chip Cookie Cake is made with new Funfetti chips topped with a homemade vanilla frosting and sprinkles. This is super easy to make and a perfect dessert for any occasion and every day!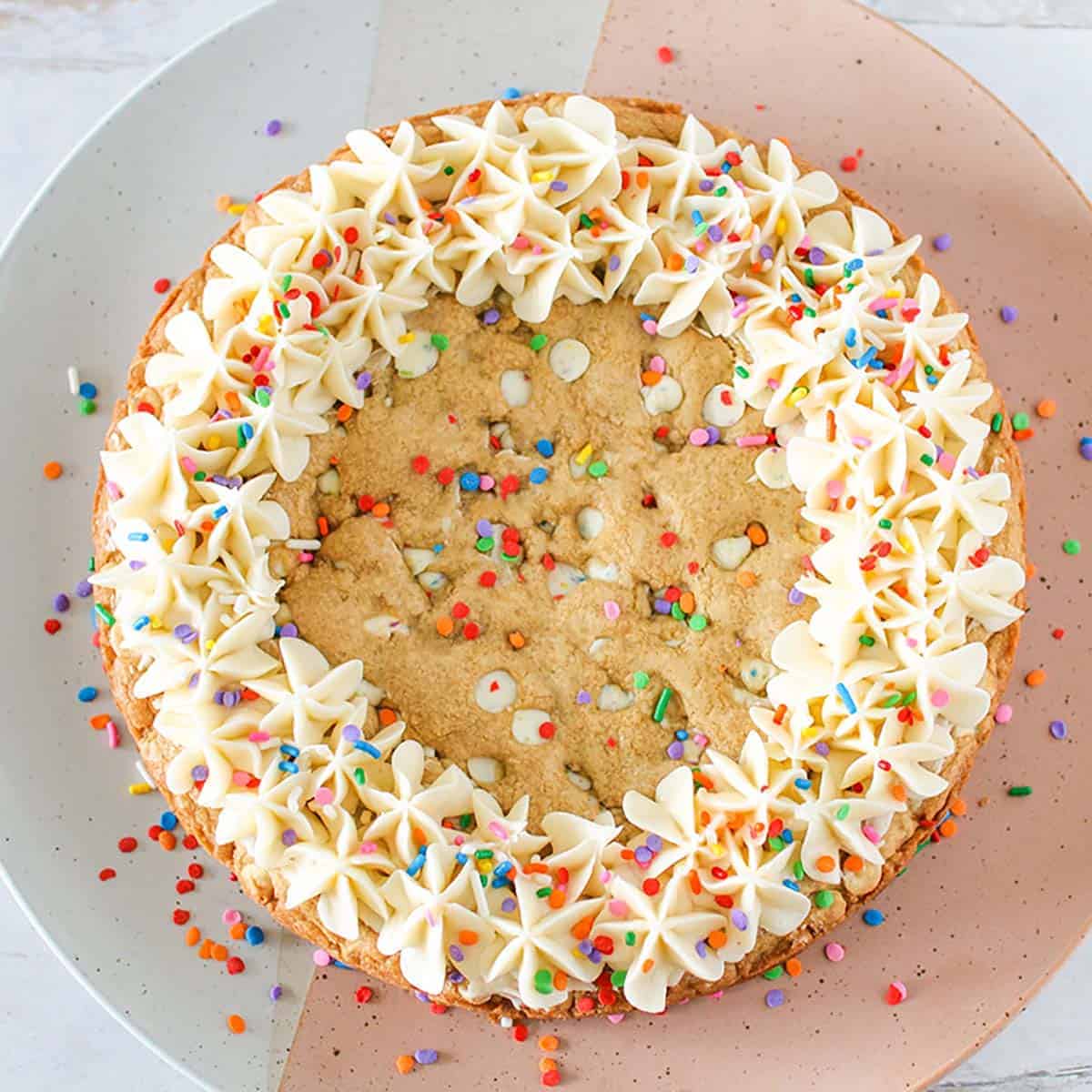 Updated November 2021 with more information including Recipe FAQs and Expert Tips.
Nestlé Toll House released new Funfetti Morsels this year. They're essentially delicious chips packed with vanilla frosting with colorful specks of Funfetti. This Funfetti Chip Cookie Cake is topped with vanilla buttercream and OF COURSE, more sprinkles! It's easy to make and a perfect dessert for any occasion. No dough chilling required!
These Funfetti Morsels taste like Pillsbury's Funfetti Frosting, plus vanilla cake! Not to mention, these morsels are super colorful. It will make you feel like your birthday is EVERY DAY! This soft, thick cookie is FILLED with these delicious chips and topped with lots of vanilla frosting and colorful sprinkles. This is perfect in place in place of a birthday cake and easier to make!
Looking for sweet and salty cookie cake? Check out my Salted Caramel Chocolate Pretzel Cookie Cake.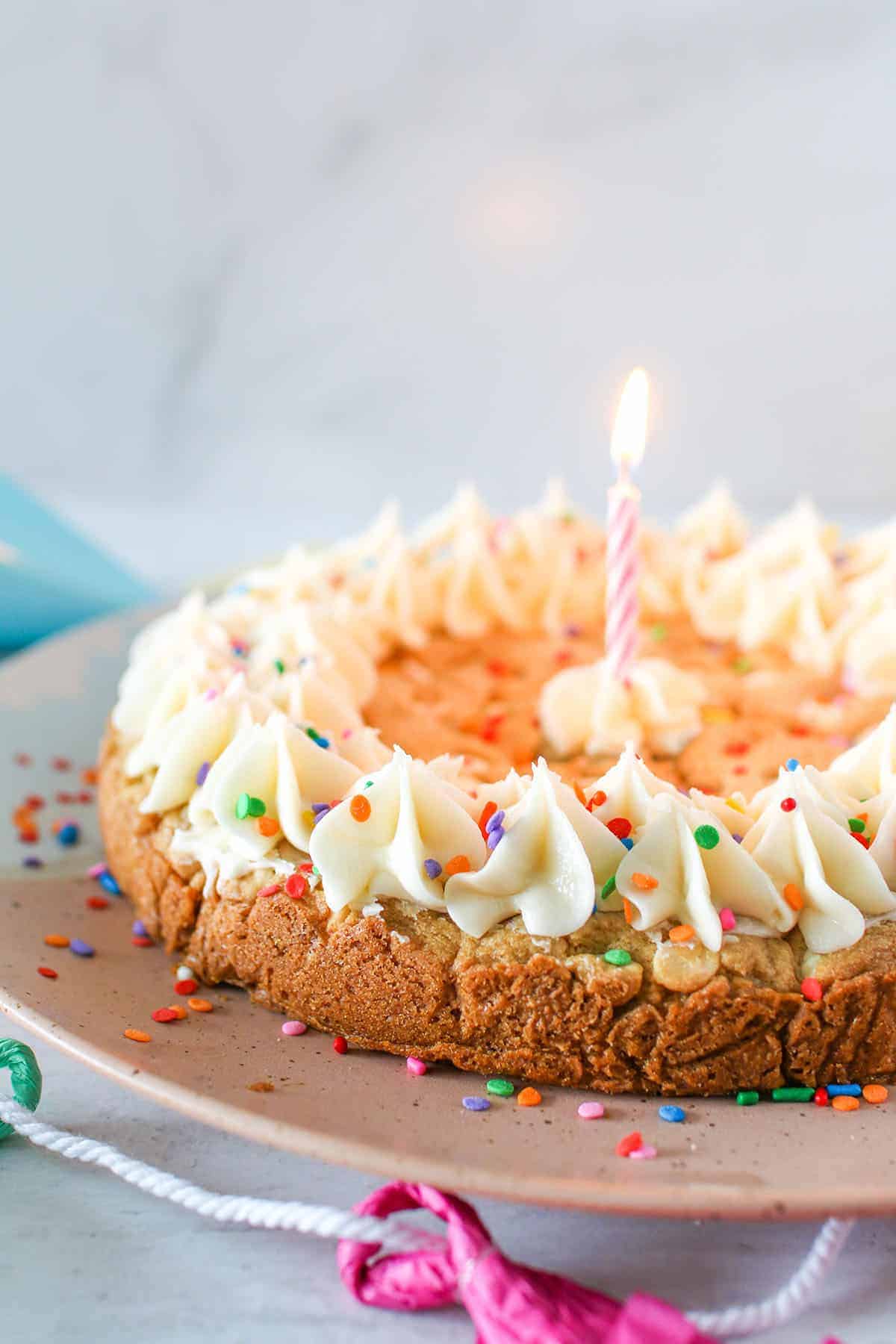 Why you'll love this recipe:
Has a soft buttery inside and chewier as you eat out
Tastes like vanilla cake in a giant cookie
Perfect for birthdays, celebrations, and just about any occasion
Easy and super delicious!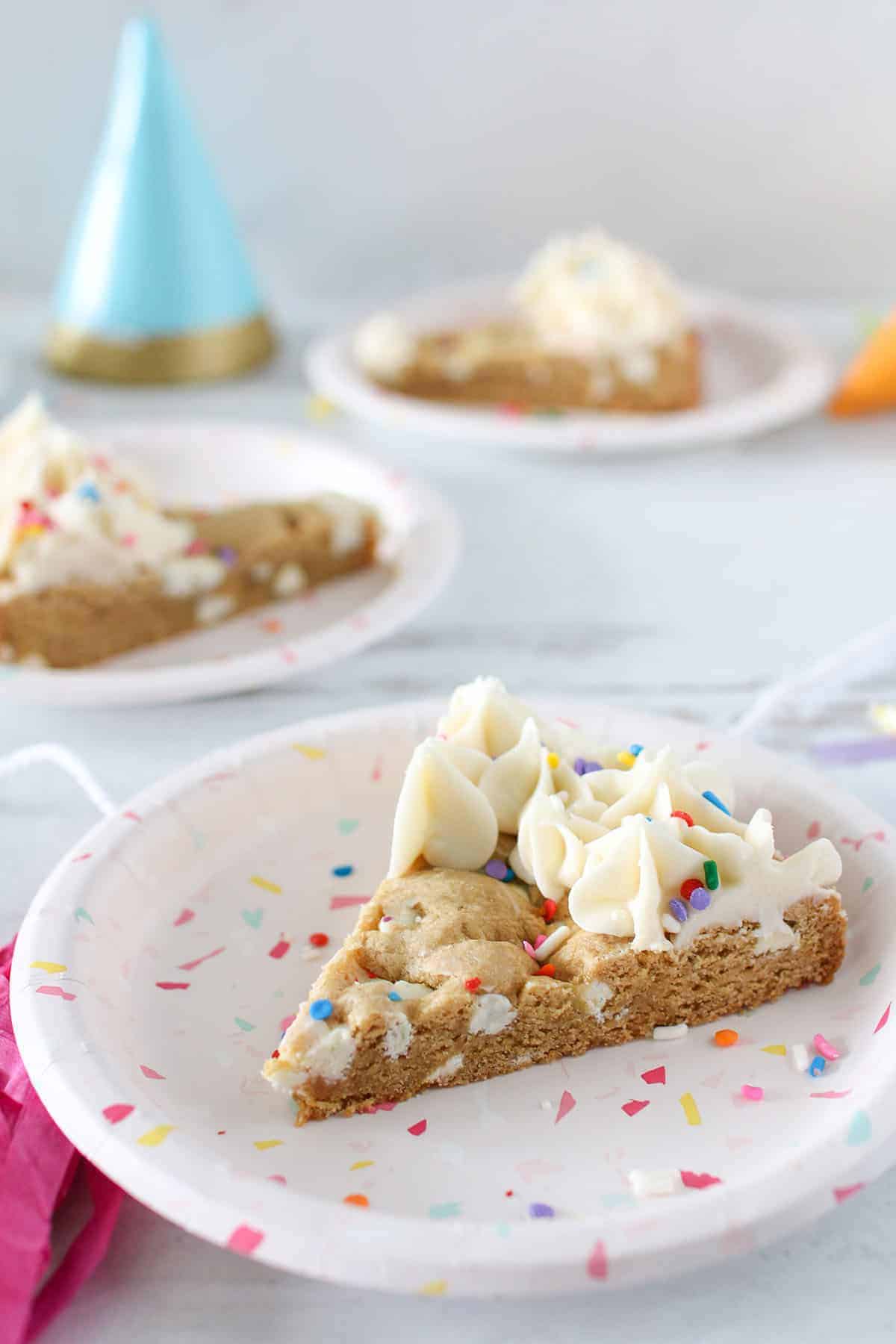 Ingredients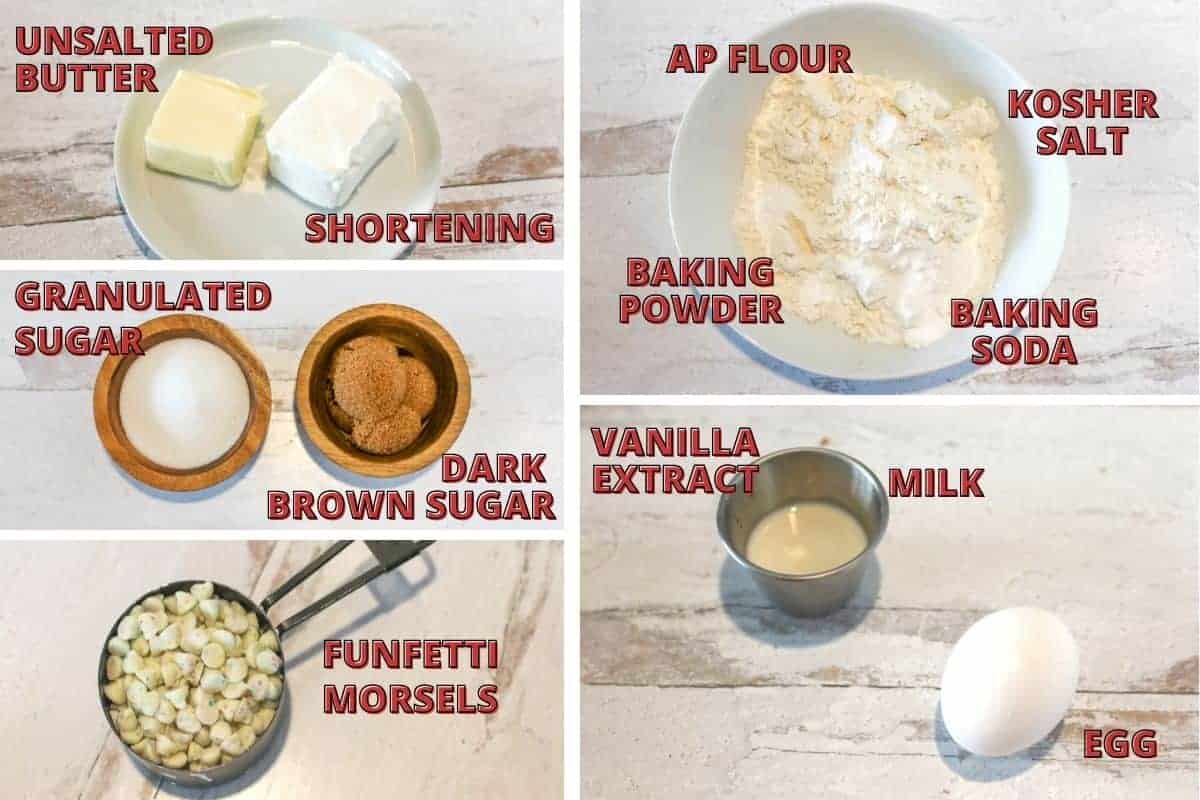 The remaining ingredients can be found listed in the recipe card at the bottom of the post.
Ingredient Notes
Shortening: room temperature, makes the cookie cake super tender and tall.
Butter: room temperature, helps crisp up edges and gives the cookie cake a buttery taste.
Brown and Granulated Sugar: to give our cookie cake that classic cookie taste. I like dark brown sugar for a more rich caramel flavor.
Vanilla Extract: extra flavor
Milk: keeps the dough moist and adds color to cookie cake.
Funfetti Morsels: more amazing than basic chocolate chips! They're basically drops of vanilla frosting with colorful specks of Funfetti
Vanilla Buttercream Frosting Ingredients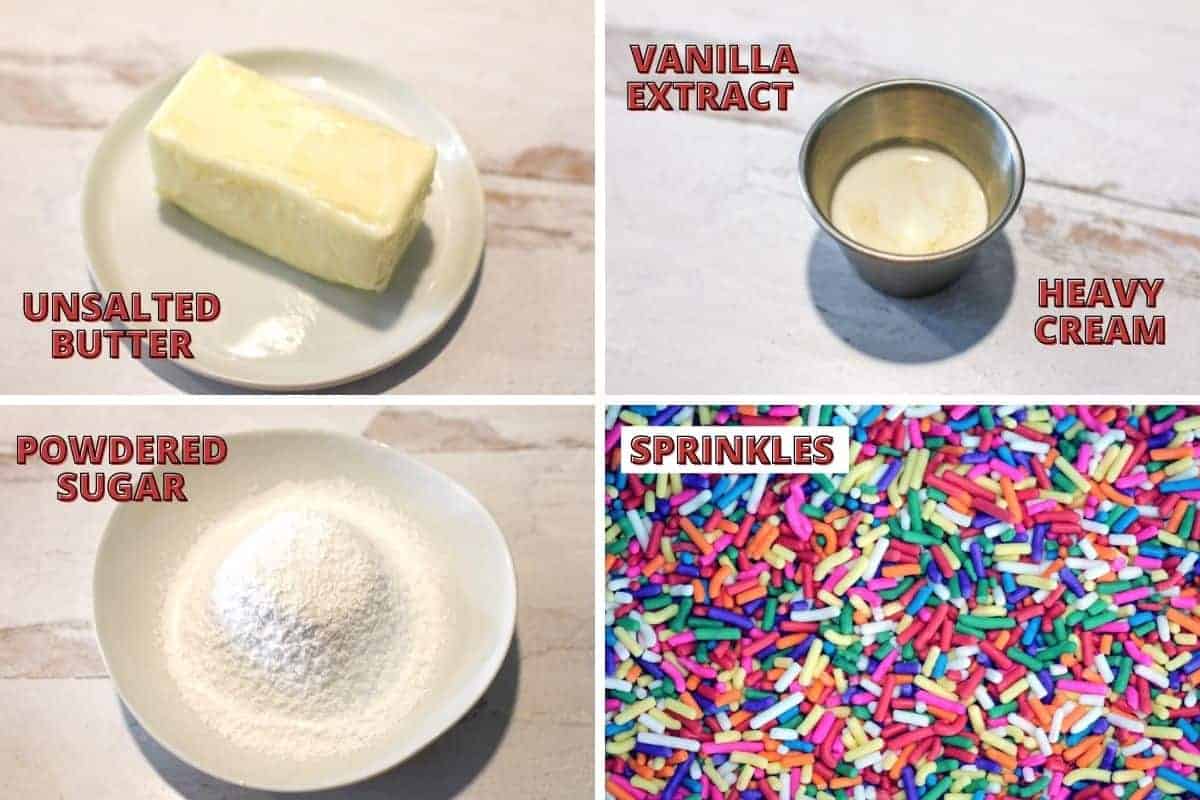 Step-by-Step Instructions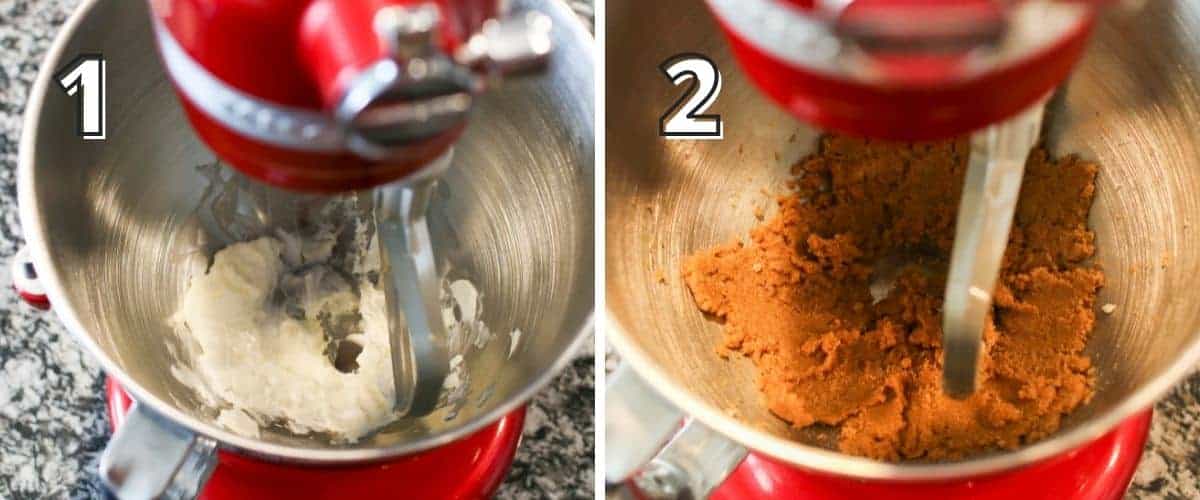 Line and Pre-heat: Preheat the oven to 350F degrees. Line a 9-inch springform pan with aluminum foil. I used 4 pieces. 1 square for the bottom and then 3 smaller ones that I used on the side and then "locked-in" with the springform. Spray with non-stick spray. Set aside. Start the base: Cream together butter and shortening together with a stand mixer for roughly 1 minute.
Next, add in brown sugar and granulated sugar and beat again. Scrap bowl the bowl as need.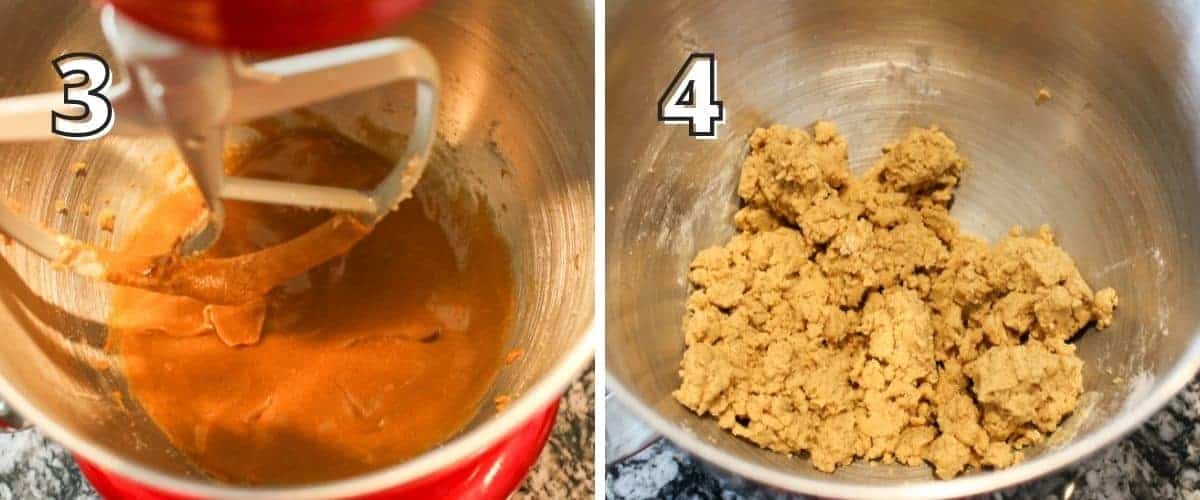 Add-in wet ingredients:

Add in egg. Beat it together until everything is combined. Then, add in vanilla and milk and beat again.

Add-in dry ingredients: Dump all the dry ingredients in and mix until just combined (it's okay if there's are a couple of streaks of flour).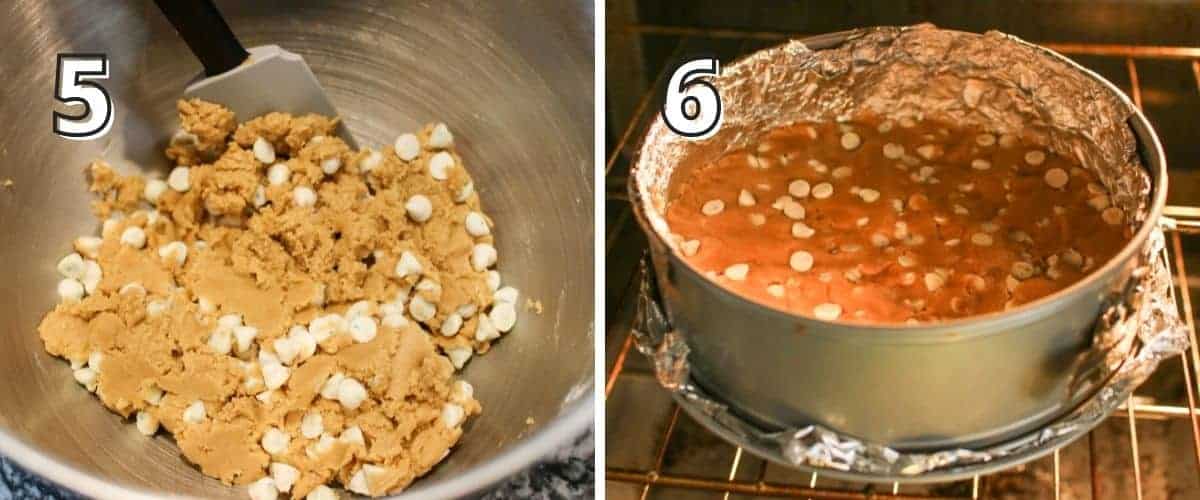 Add-in chips: Add the funfetti chips and gently fold into the cookie dough.
Prepare the pan + bake: Press the dough into the prepared 9-inch springform pan. Bake for 20-25 minutes, until the edges start to brown and the top is golden. Cool in the pan on a cooling rack until completely cooled.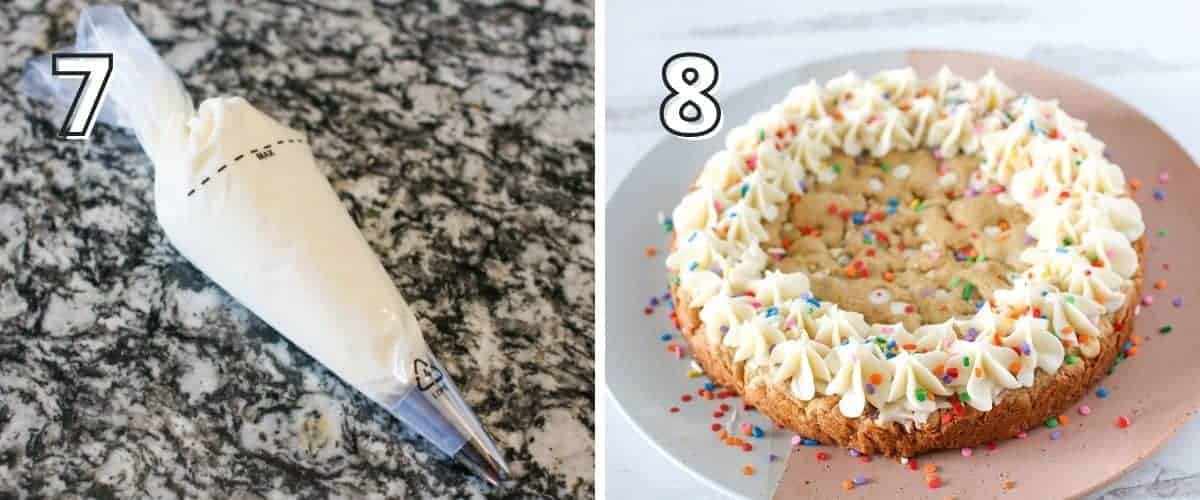 While cooling the cookie cake, prepare the vanilla frosting. Beat butter in a stand mixer. Then, sift in powdered sugar a bit at a time until combined. Scape down as needed, then add-in heavy cream and vanilla extract and bean on slow until completely combined. Finally, add frosting to a pastry bag with decorating tip of your choice.
Once cookie cake is completely cooled, remove it carefully from springform pan and aluminum foil. Then, pipe the frosting as your desire and top with sprinkles. Slice and enjoy.
Expert Tips
Foil is our friend! If there is too much browning on the top of your cookie cake, add foil to cover the top of the pan.
Cool it completely! Make sure to let the cookie cake cool completely before you frost it. It takes about 90 minutes - 2 hours roughly for my cookie cake to completely cool. But you can make this cookie cake the night before serving, let it cool completely overnight, and frost it the next day.
Homemade is the best! With homemade cookie cake, why not go all the way and make homemade buttercream too! Homemade tastes way better than store-bought and use basic store bought ingredients for exceptional flavor.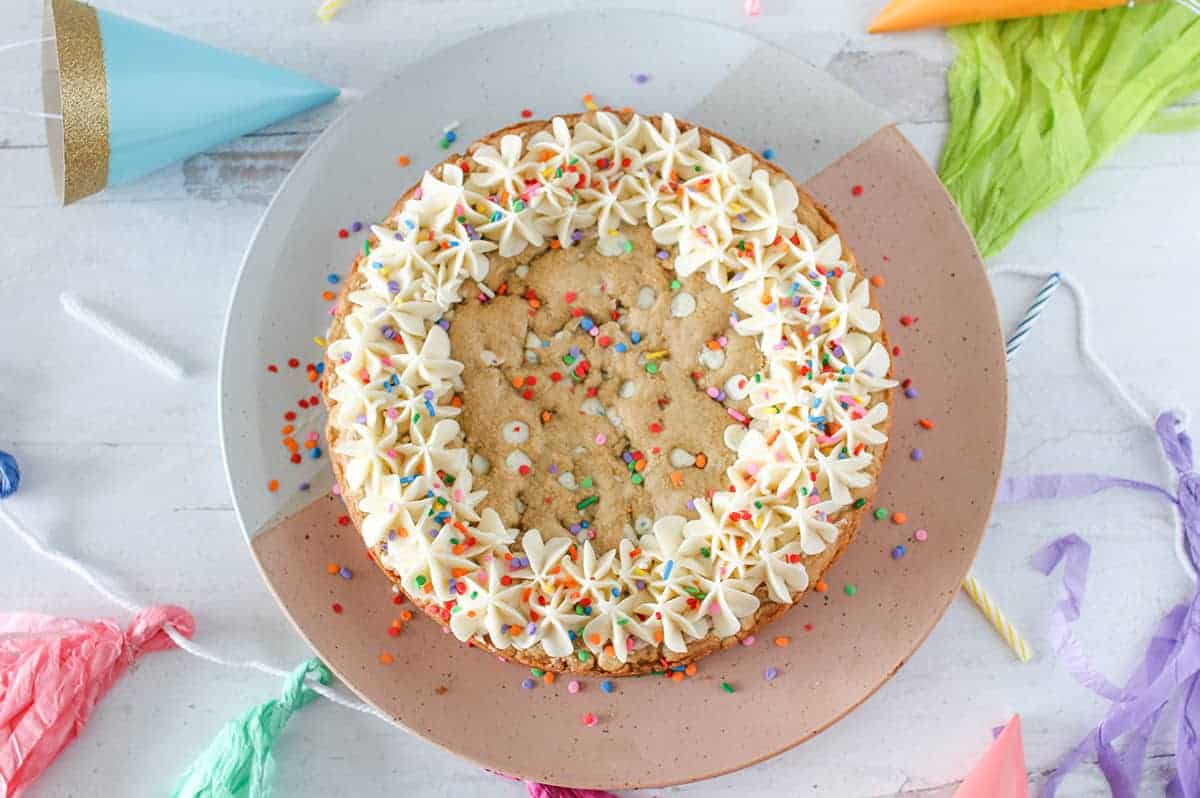 Recipe FAQs
I don't have a piping bag. What can I use instead?
Add the frosting to a ziplock bag, snip off the corner, and use it to pipe the frosting around the edges.
Why does this recipe use both shortening and butter? Can I use just one?

I like to use both shorting and butter in my cookie cake. Shortening is made up of 100% hydrogenated vegetable oil and contains no water while butter contains 80% butterfat and 20% water. Shortening traps more air bubbles and produces a soft interior texture along with holding its shape during baking.

Technically, yes you can use just one if you have it on hand BUT for best results I do recommend both shortening and butter.
What do I do if I don't have a springform pan?
You could use a pizza pan or a 9x13 pan in a pinch you will just need to adjust your baking time.
You Might Also Like
PS If you try this recipe, why not leave a star rating in the recipe card right below and/or a review in the comments section further down the page? I always appreciate feedback. You can also follow me on Pinterest, Facebook or Instagram.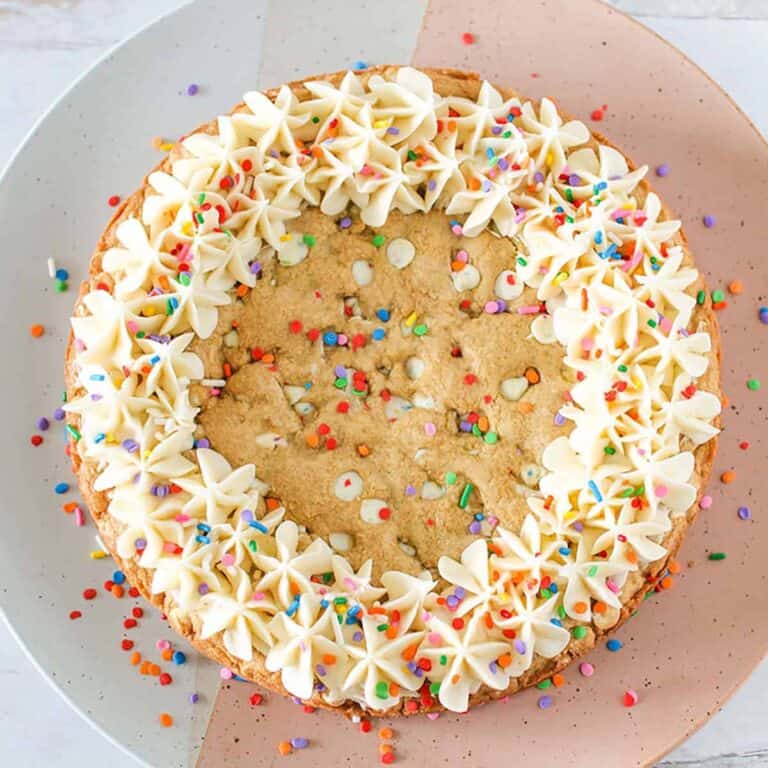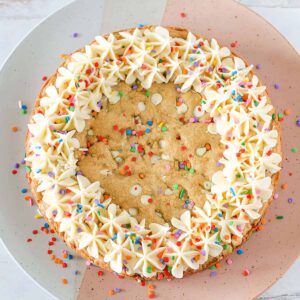 Funfetti Chip Cookie Cake
Buttery, chewy, melt-in-your-mouth cookie cake and topped with vanilla buttercream and lots of sprinkles! This Funfetti Chip Cookie Cake is going to be the hit of the party! It's made with Tollhouse's new Funfetti Morsels which taste like vanilla cake and frosting.
Ingredients
¼

cup

shortening

room temperature

2

tablespoon

unsalted butter

room temperature

⅜

cup

granulated sugar

⅜

cup

brown sugar

dark, packed

½

tablespoon

vanilla extract

1

tablespoon

milk

1

egg

¼

teaspoon

kosher salt

½

teaspoon

baking soda

½

teaspoon

baking powder

1 & ⅜

cup

all-purpose flour

1

cup

Funfetti Morsels

¼

cup

rainbow sprinkles
Vanilla Buttercream
1

stick

butter

unsalted and softened

1 and ½

cup

powdered sugar

sifted

1

teaspoon

vanilla extract

1

tablespoon

heavy cream
Instructions
Preheat oven to 350°F. Line a 9-inch spring form pan with aluminum foil and spray with nonstick spray. Set aside

In a large bowl of stand mixer fitted with a paddle attachment, cream the softened butter and shortening about 1 minute on medium speed (until smooth). Then, add the sugar on medium speed until fluffy and light in color. Beat in egg, milk and vanilla. Scrape down the sides as needed.

Add in all the dry ingredients and beat on low speed until just combined.

Next, gently fold in the Funfetti chips using a rubber spatula.

Press the cookie dough evenly into the prepared pan.

Bake for 20-25 minutes or until the edges are browned.

Allow the cake to cool in the pan on a wire rack to cool until room temperature before removing from the pan. When removing from the pan, make sure to carefully remove all the aluminum foil from the bottom and the sides.
Frosting + Decoration
In a stand mixer, beat butter until smooth.

Add in powdered sugar ½ cup at a time. Scrap the bowl as needed.

Add in vanilla extra and heavy cream.

Put frosting in a piping bag with pastry tip if your choice. I used a M1.

Frost as you desired and top with sprinkles.
Notes
Nutritional information for this recipe is only an estimate. The accuracy of the nutritional information for any recipe on this site is not guaranteed. Please calculate your own nutritional information if you want it exact to what you make and use my calculations as a guide only.
Nutrition
Calories:
477
kcal
|
Carbohydrates:
77
g
|
Protein:
4
g
|
Fat:
18
g
|
Saturated Fat:
9
g
|
Cholesterol:
15
mg
|
Sodium:
208
mg
|
Potassium:
101
mg
|
Fiber:
1
g
|
Sugar:
60
g
|
Vitamin A:
123
IU
|
Vitamin C:
1
mg
|
Calcium:
76
mg
|
Iron:
1
mg
Tried this recipe?
Tag me on Instagram @makewithmara or hashtag #makewithmara