Green. Chile. Cheddar. Butter. Swimming. Biscuits. Do I need to say more?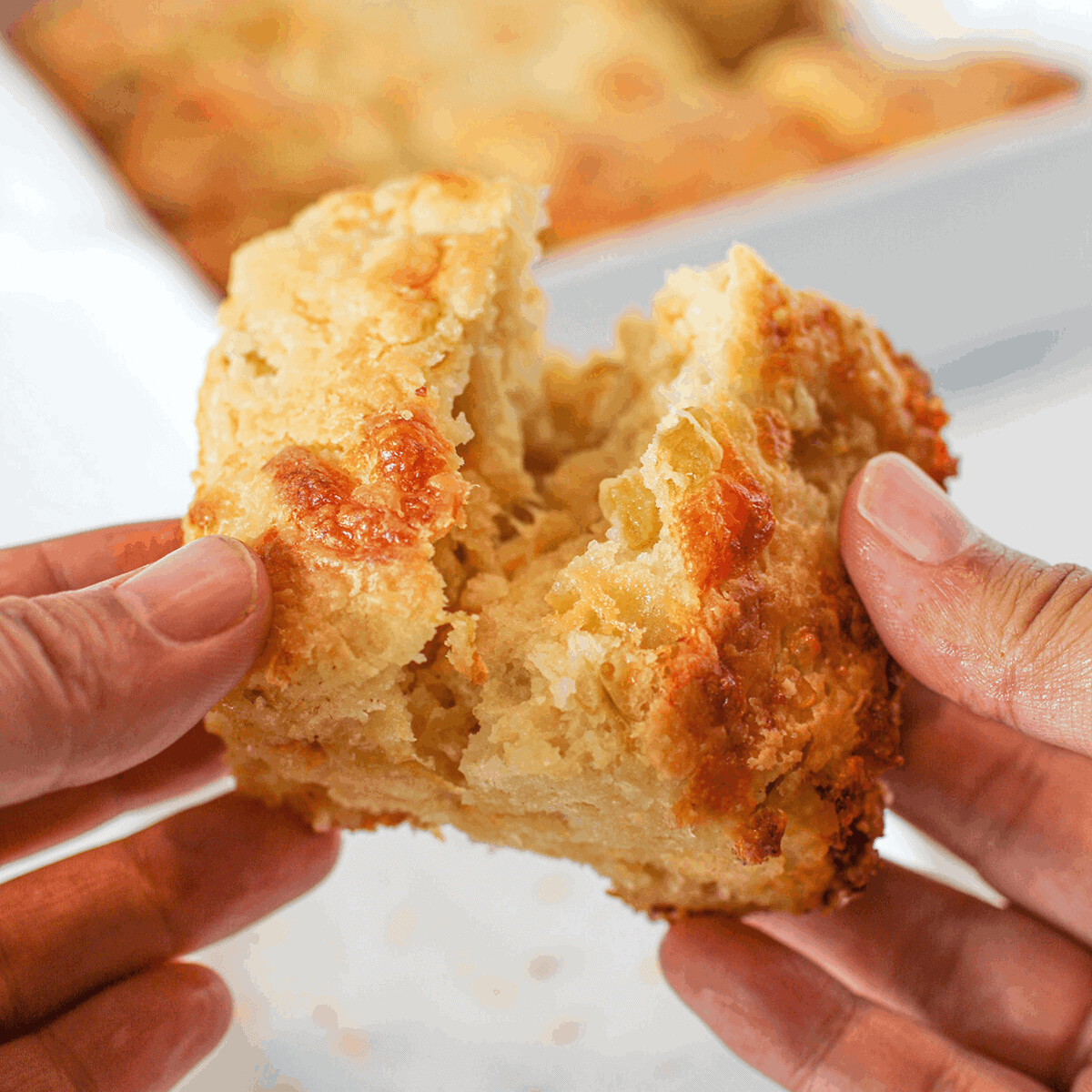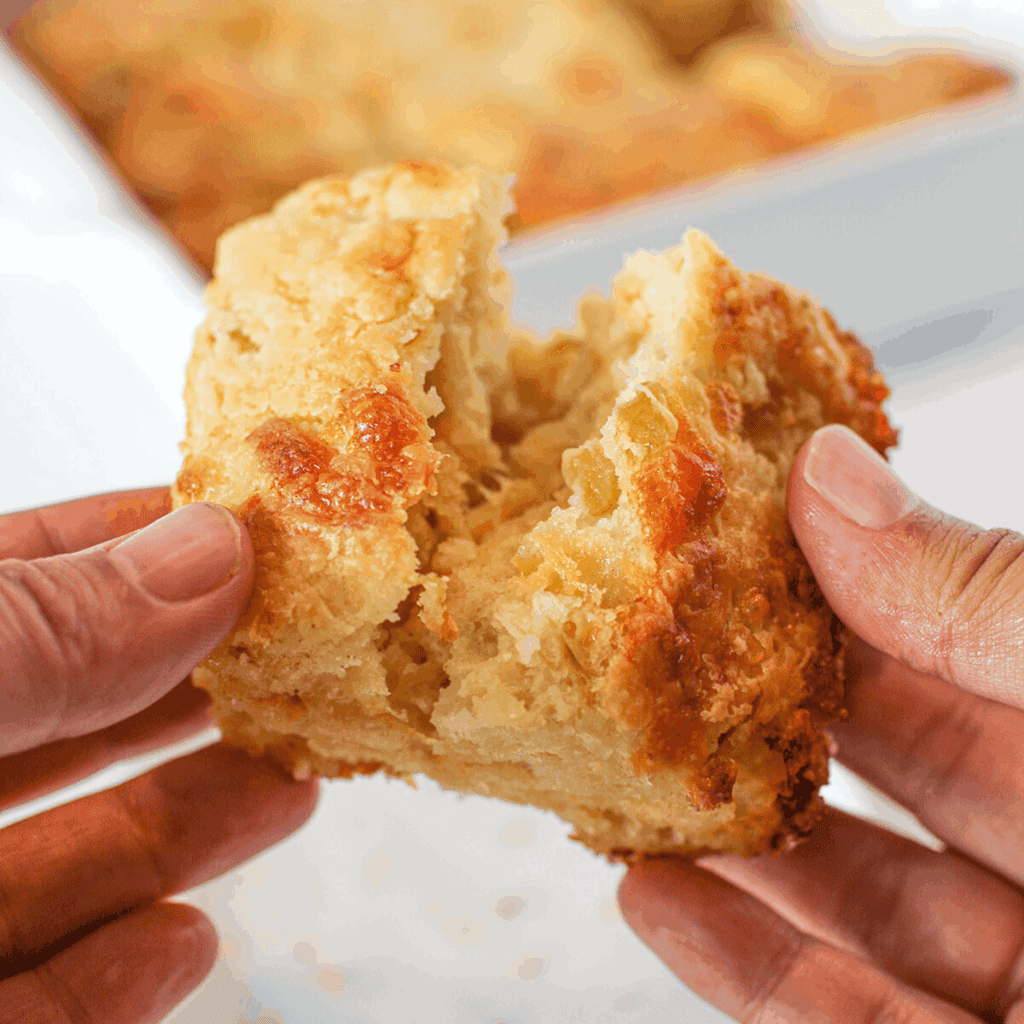 Updated November 2020 with process photos, ingredient photos and more information.
I beat you cant say "Green Chile Cheddar Butter Swimming Biscuits" 5 times fast without messing up. But, what I promise is you cannot mess up making these biscuits. They are incredibly easy to make and come together in 15 minutes tops. There's no need for a pastry cutter, chilling butter, or kneading needed. Instead, you'll have fluffy, buttery, a little bit spicy, salty, cheesy biscuits ready in an hour. Now, forewarning, these are NOT traditional flaky biscuits. It's more similar to a southern buttermilk biscuit BUT is baked in a glorious pool of butter and made with green chile and cheddar cheese hence the name Green Chile Cheddar Butter Swimming Biscuits. I use Tillamook's Sharp Cheddar - Familly Style Cut because the thick-cut means you get a glorious amount of cheese in every bite. You could definitely use other shredded cheddar cheese or hand shred your own but I ended up finding it at my grocery for "buy 1 get 1 free". I LOVE a good deal and I personally think Tillamook's cheese has better quality and flavor compared to generic brands.
These are the biscuits you want with soup, chili, sloppy joes, and the next morning (if they last that long) as a breakfast sandwich or with your eggs and coffee. These are good to have during breakfast, brunch, lunch, dinner, and even as a snack. The inside is fluffy and buttery, while the exterior is crispy from being baked in the glorious bath of butter. Not to mention, you're getting all different types of flavors from the green chile, cheddar cheese, buttermilk, and salt. Don't be surprised if you're reaching for another one once you finish your firs.t They are THAT GOOD!
Let's get baking!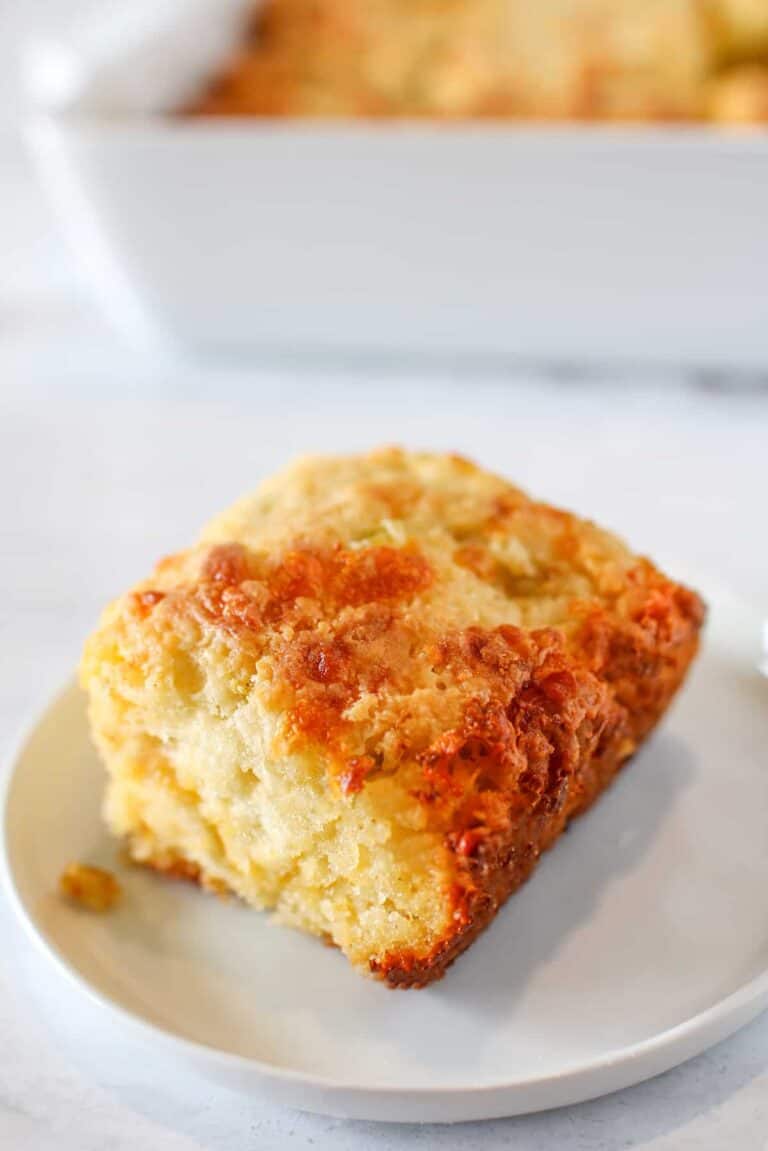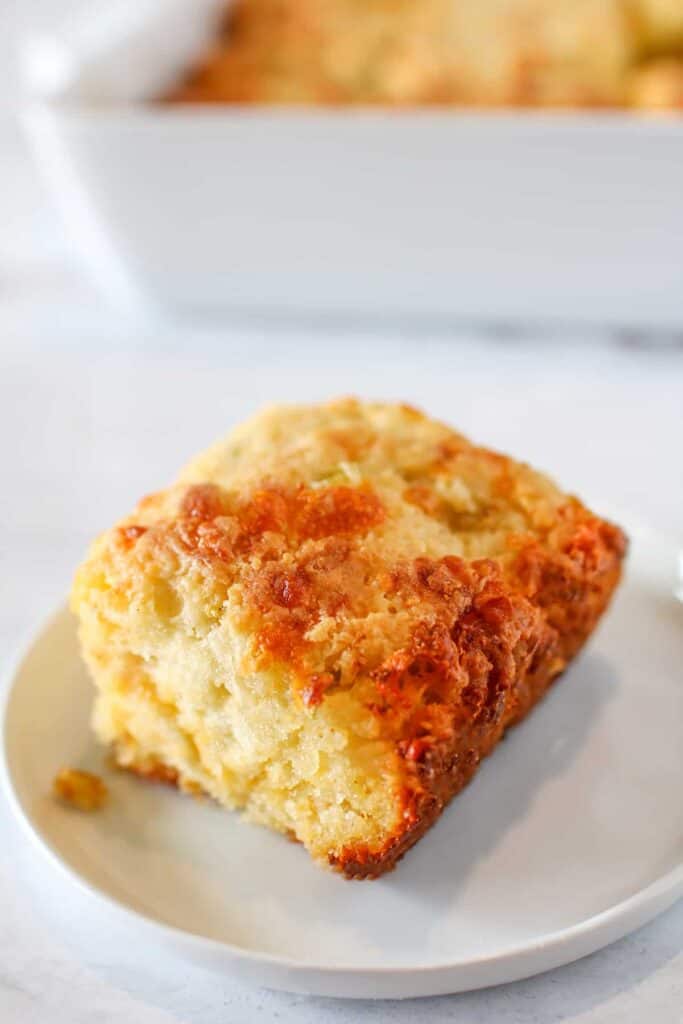 Why you'll love this recipe:
Not only is this recipe easy to make, but it has a:
Soft, buttery, and fluffy inside
A crusty cheesy bottom
Delicious with soup and chili
Use leftovers to make a seriously delicious breakfast sandwich!
Green Chile Cheddar Biscuit Ingredients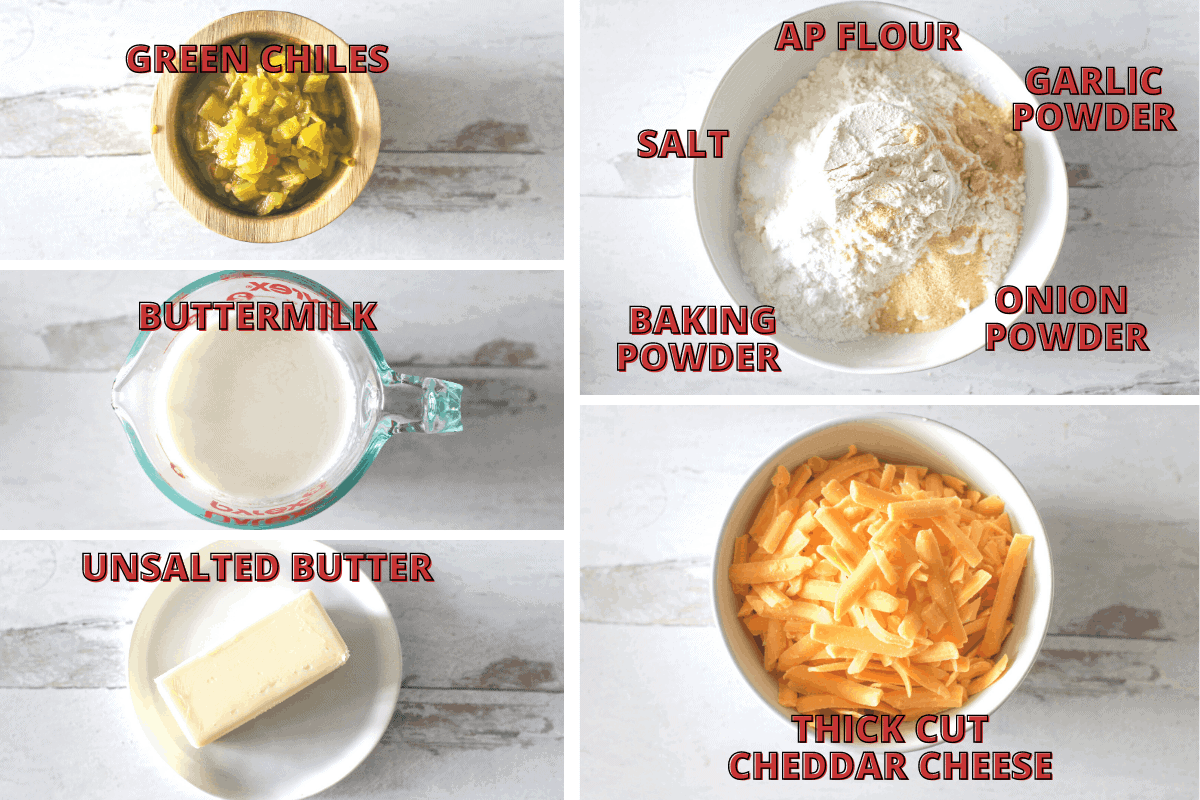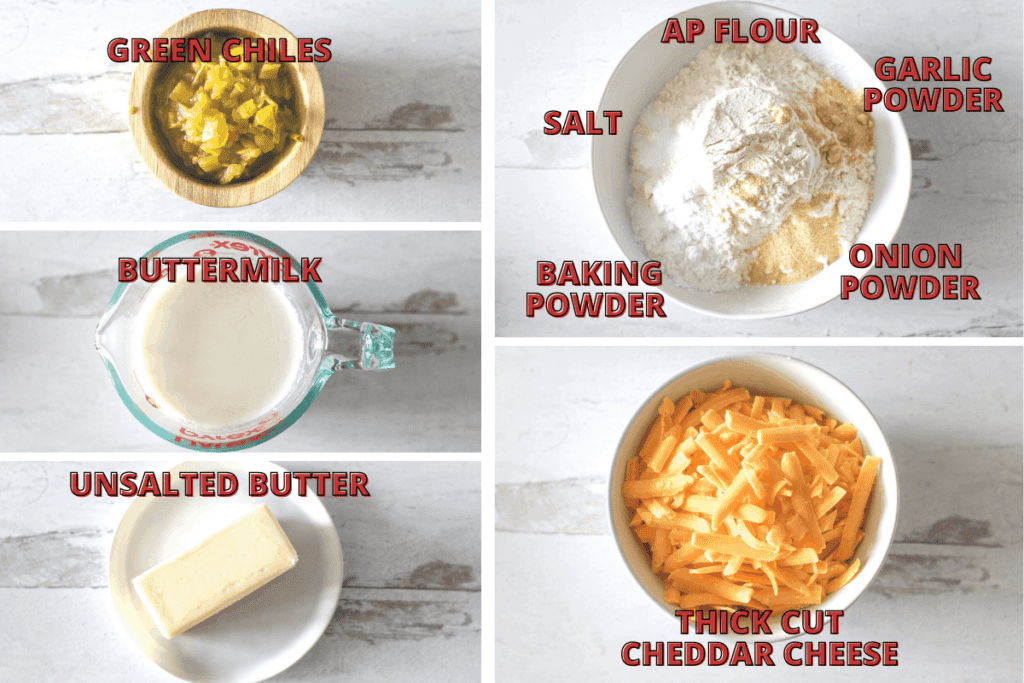 Step-by-Step Photos
This recipe is SUPER easy to make! But, start by preheating the oven to 450°F. Next, we're going to throw this dough together...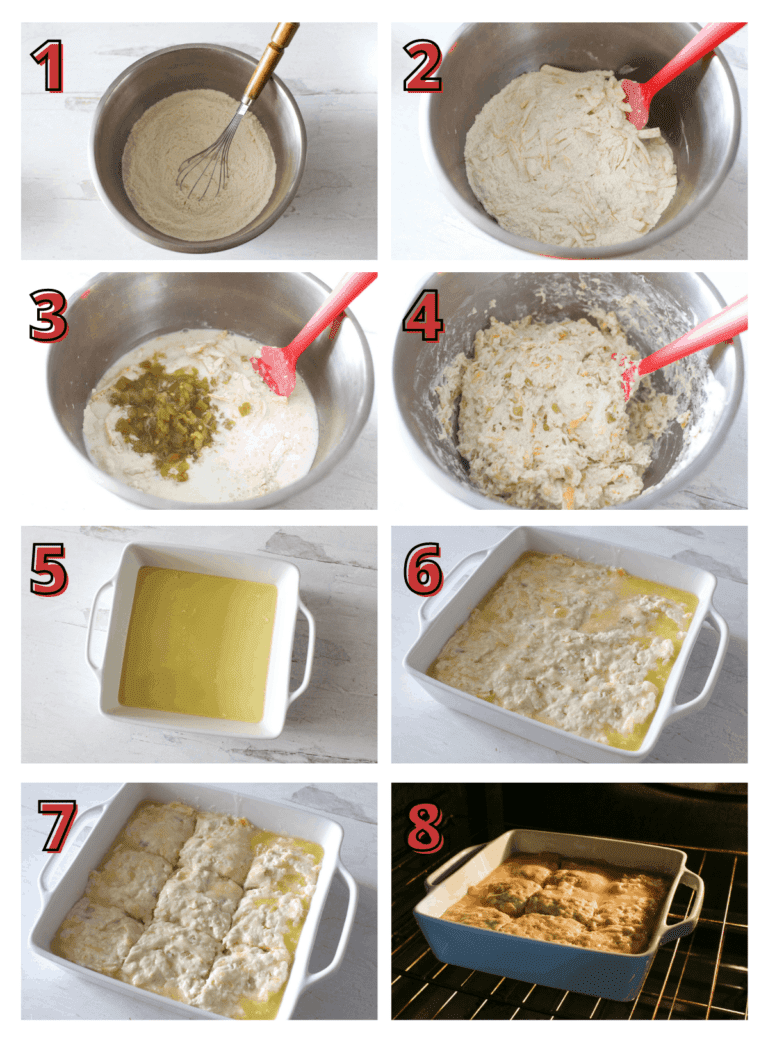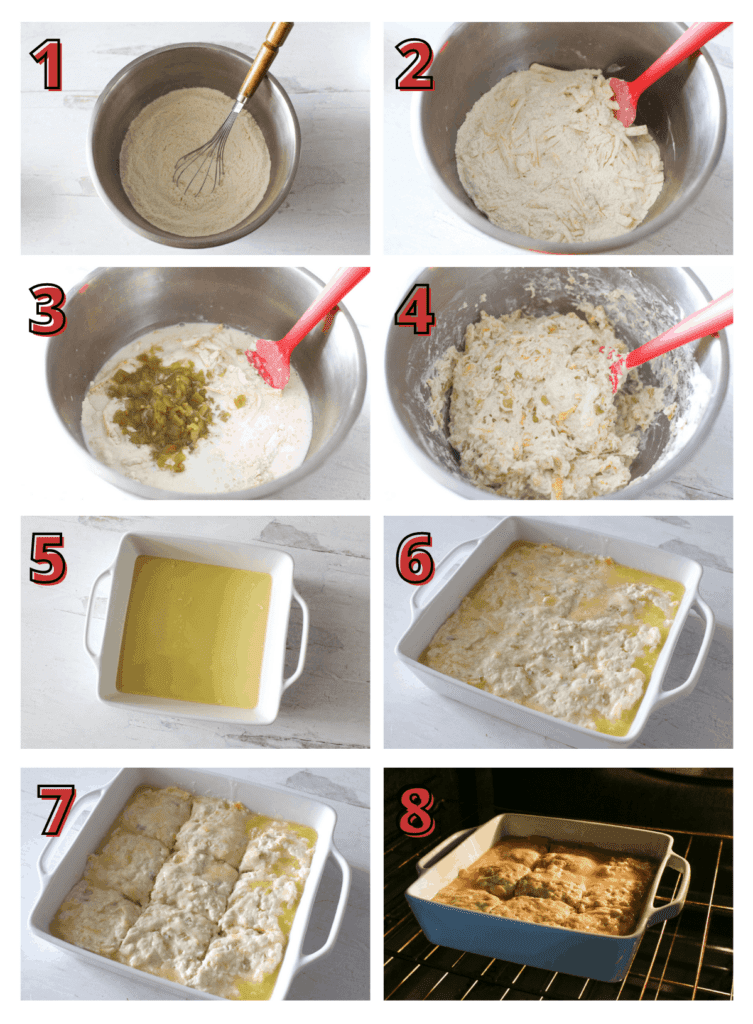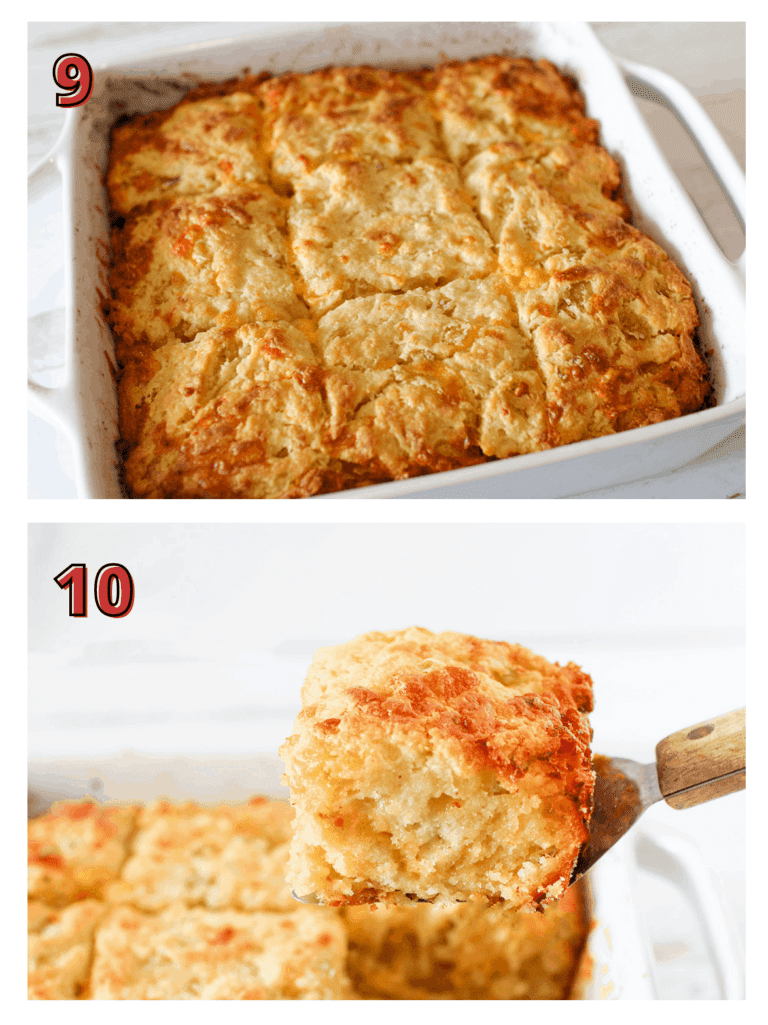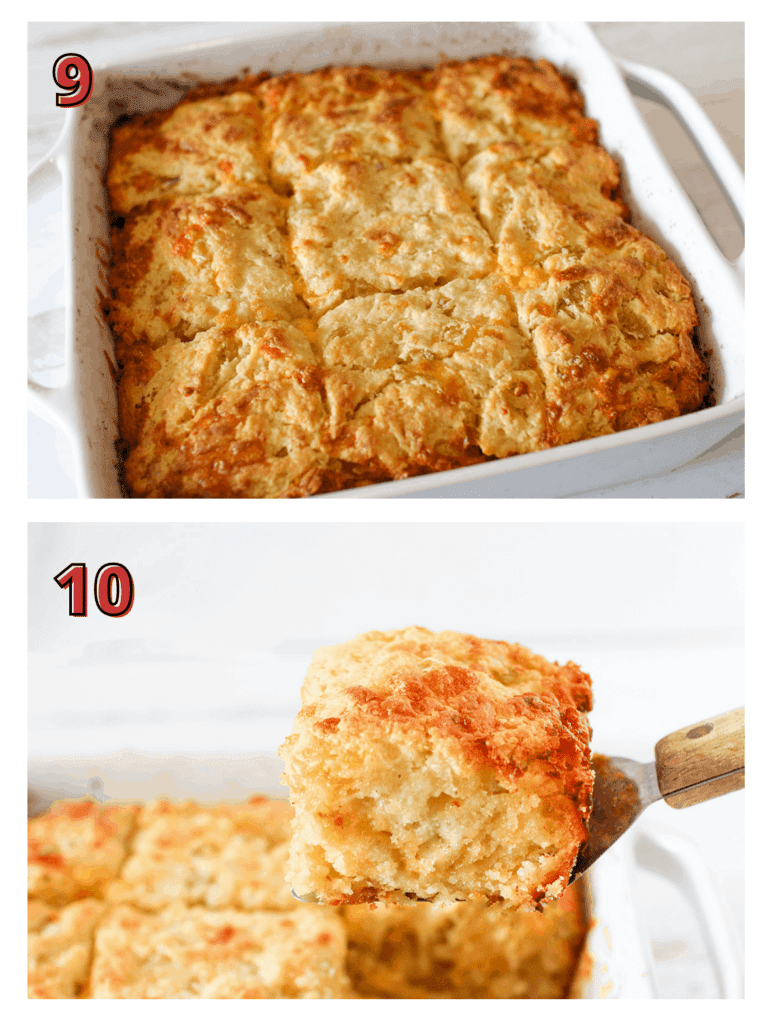 Baking Tips
Need a Buttermilk Substitute?
Forgot to pick up buttermilk from the grocery store? I realize some people might not have buttermilk on hand unless they are an avid baker. Fear not, make your own buttermilk substitute with two household ingredients in the comfort of your own home.
In a bowl combine, 1.5 tablespoons of lemon juice or wine vinegar to 1.5 cups of milk (preferably whole milk). Let it sit out for 10 minutes at room temperature until curds form. Then, it's ready to use! Do NOT USE white wine vinegar, I learned the hard way. Always read your labels, ladies and gents!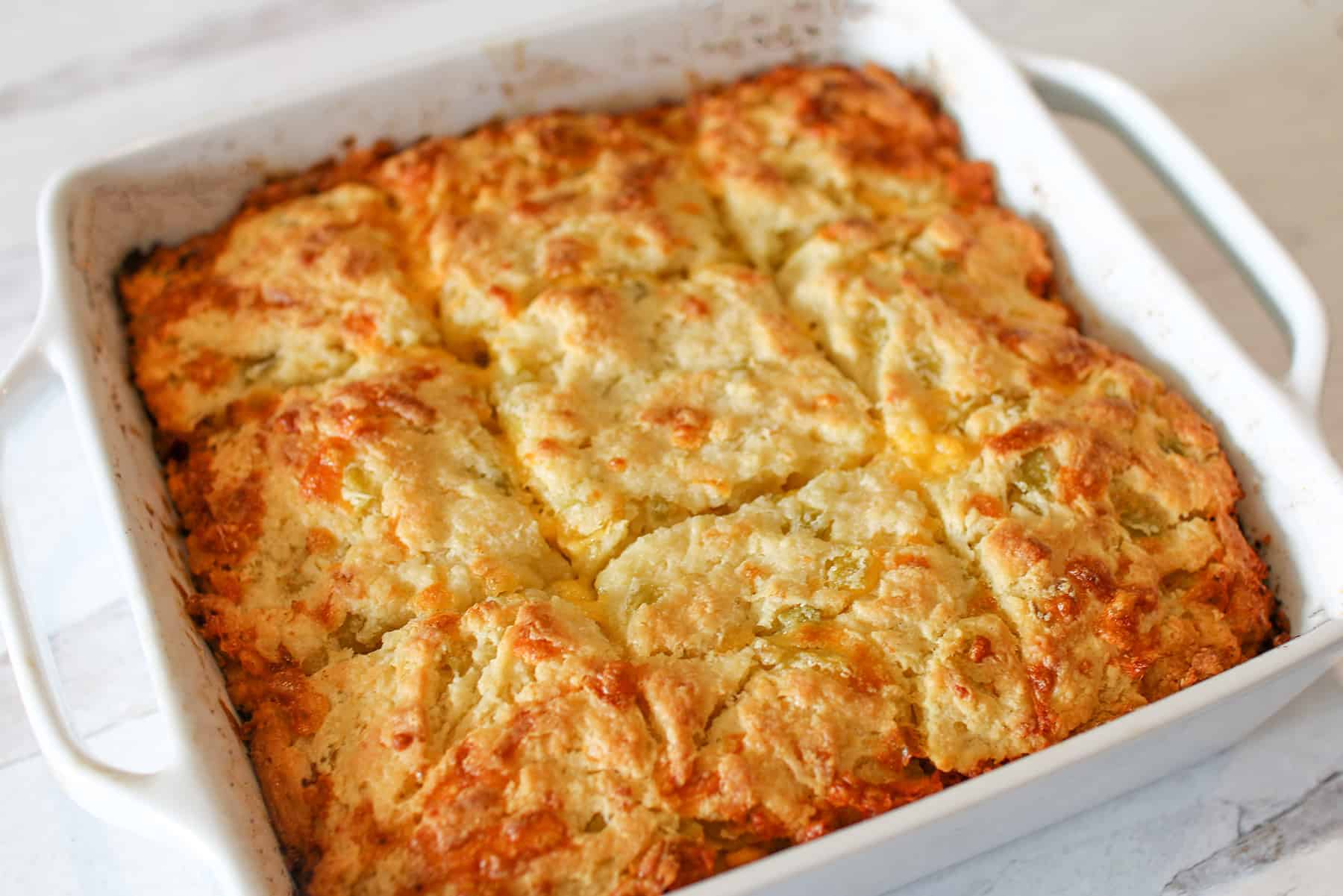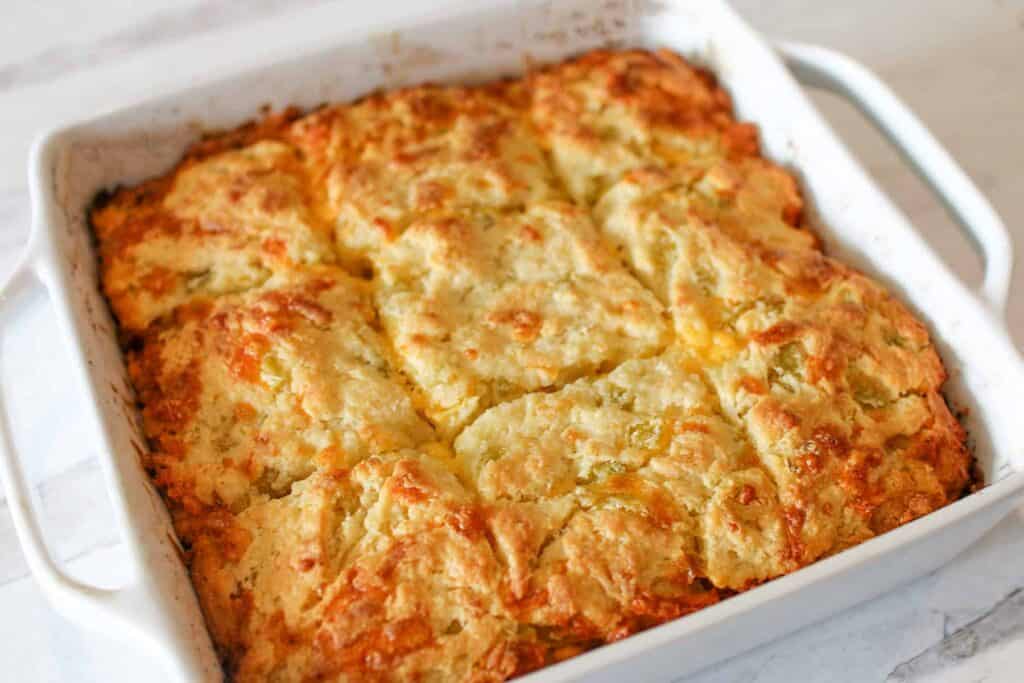 Looking for more cheesy, carb recipes? Check out these recipes...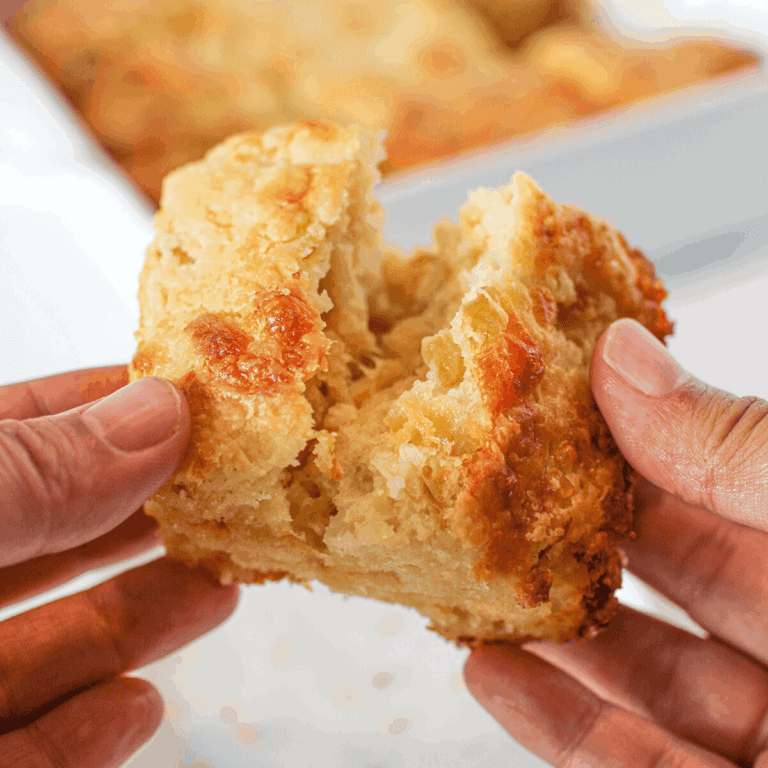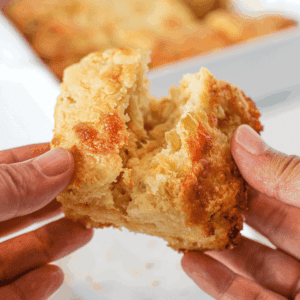 Green Chile Cheddar Butter Swimming Biscuits
Homemade biscuits made easy? Yes, please! But, these aren't your normal biscuits, no, no, no. These are Green Chile Cheddar Biscuits that have been baked in a pool of butter...AND no kneading, no freezing butter, no biscuit cutters. Have biscuits in under an hour, that are soft on the inside and with a crispy butter baked bottom. Each bite is filled with cheesy, spicy, buttery goodness!
Ingredients
8

tablespoon

unsalted butter

2.5

cups

all-purpose flour

4

teaspoon

baking powder

2

teaspoon

onion powder

2

teaspoon

garlic powder

1

teaspoon

salt

2

cups

cheddar cheese, thick and shredded

I used Tillamook's Sharp Cheddar (Farm Style)

1.5

cups

buttermilk

1

4-4.5oz

canned green chile
Instructions
In a large bowl, combine all-flour flour, salt, garlic powder, onion powder and baking powder. Whisk.

Stir in cheese with silicione spatula.

Stir in buttermilk and green chiles with silicone spatula until combined

When oven is finished pre-heating, in a microwave safe bowl, melt butter for 1 minute.

In a 9x9* baking dish, pour in melted butter evenly.

Turn biscuit dough into baking dish on top of butter. Using a spatula or small offset spatula spread dough evenly.

Roughly cut the dough into 9 even squares.

Bake for 30-35 minutes or until top is golden brown.

Let sit for up to 5 minutes, until butter is soaked into the biscuits.
Notes
Leftovers can be stored in an airtight container in the refrigerator for 3 to 4 days.
*Make sure the pan you use has high walls to make sure the butter does not overflow out into the oven. You can place a sheet underneath to catch any overflowing butter.
**Use a small metal spatula to remove biscuits. The butter and cheese create a delicious crispy bottom to the biscuits and a metal spatula will help make sure it stays intact. Use something similar to this. 
Nutritional information for this recipe is only an estimate. The accuracy of the nutritional information for any recipe on this site is not guaranteed. Please calculate your own nutritional information if you want it exact to what you make and use my calculations as a guide only.
Nutrition
Serving:
9
biscuits
|
Calories:
356
kcal
|
Carbohydrates:
31
g
|
Protein:
12
g
|
Fat:
21
g
|
Saturated Fat:
13
g
|
Cholesterol:
59
mg
|
Sodium:
690
mg
|
Potassium:
147
mg
|
Fiber:
1
g
|
Sugar:
3
g
|
Vitamin A:
655
IU
|
Vitamin C:
1
mg
|
Calcium:
373
mg
|
Iron:
2
mg
Tried this recipe?
Tag me on Instagram @makewithmara or hashtag #makewithmara