Looking for something SINFULLY delicious? This mousse cake will impress this Halloween, plus it's full of chocolate and Nutella!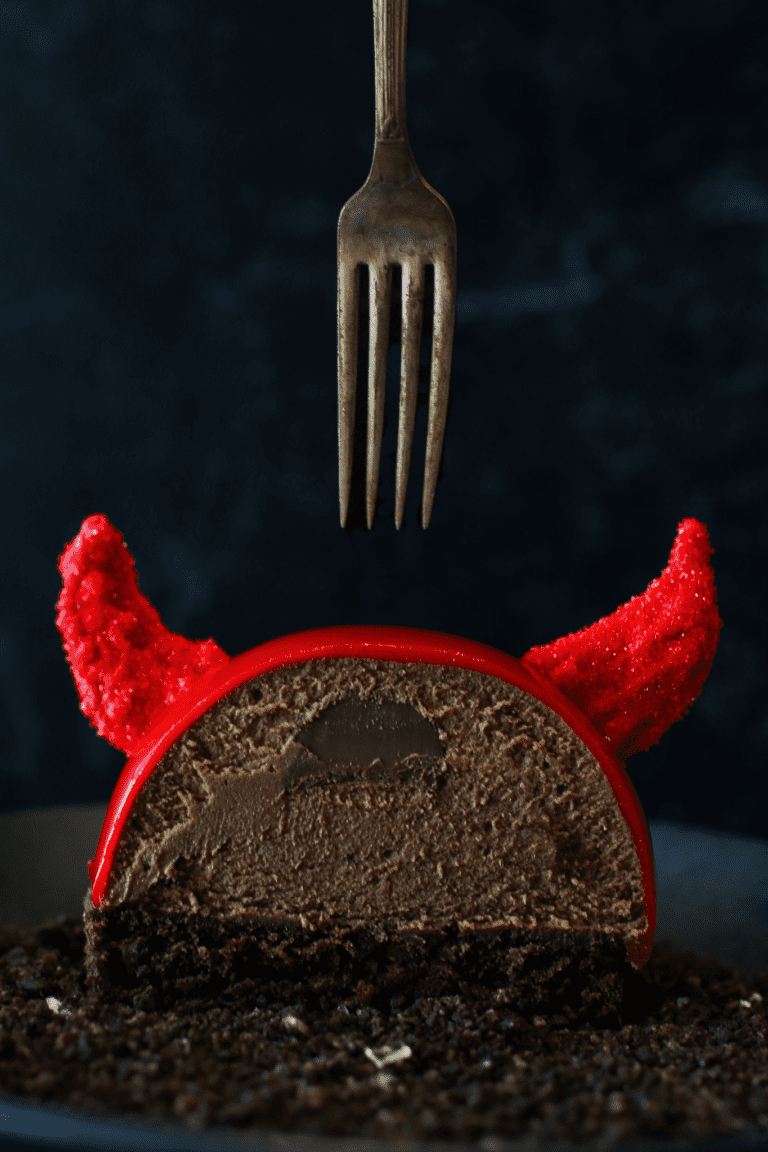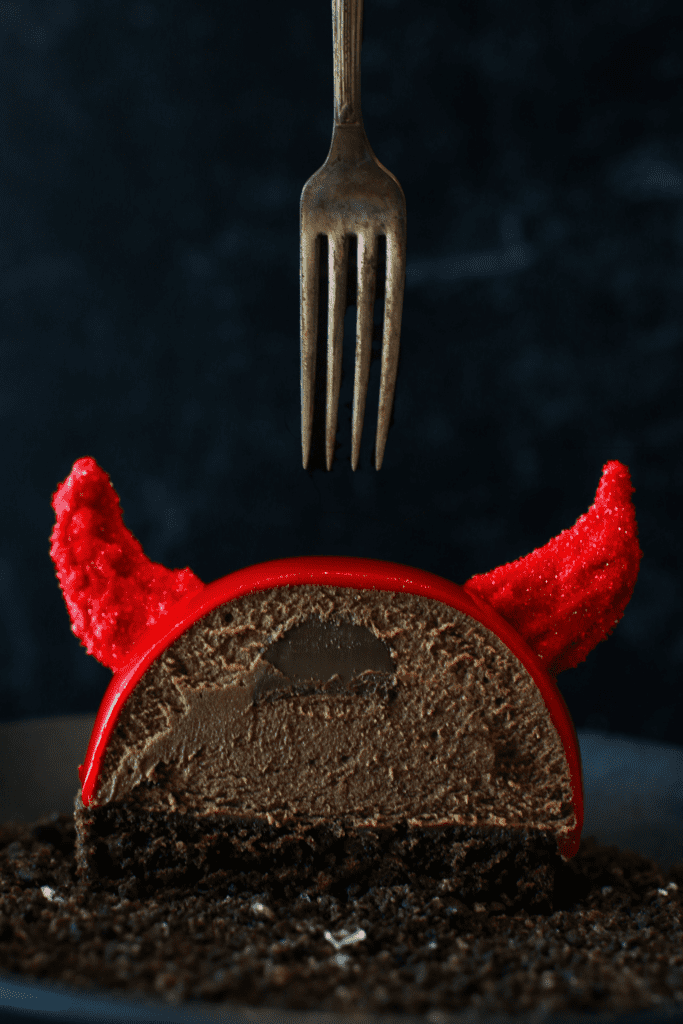 Last year, my company had a Halloween Bake-Off. I was a judge for it, but that did not stop me from creating something that would TRICK AND TREAT my co-workers. I created Halloween Nutella Devil Entremets that are spooky delicious and beautiful. Some of you might ask what is an entremet? It's a French dessert that is composed of multi-layered mousse-baked cake with complementary flavors and different textural contrasts. This one has lots of Nutella and chocolate. I will nuTELLA it's super delicious!
While Halloween might look a little different this year. That doesn't mean you can't get into Halloween spirit with these spooky treats. My Halloween Nutella Devil Entremets have a Nutella center surrounded by dark chocolate Nutella mousse. The red shiny glaze makes this treat extra fancy. It's a luscious mirror glaze that gets its name from the gorgeous mirror-like sheen. Don't be scared if you catch your reflection in these little treats. Top with two devil horns made out of candy melts and red sugar sprinkles (for extra sparkle). The entremet sits a bed of salted oreo dirt. The crushed Oreos give extra crunchy. And salt and chocolate just go together.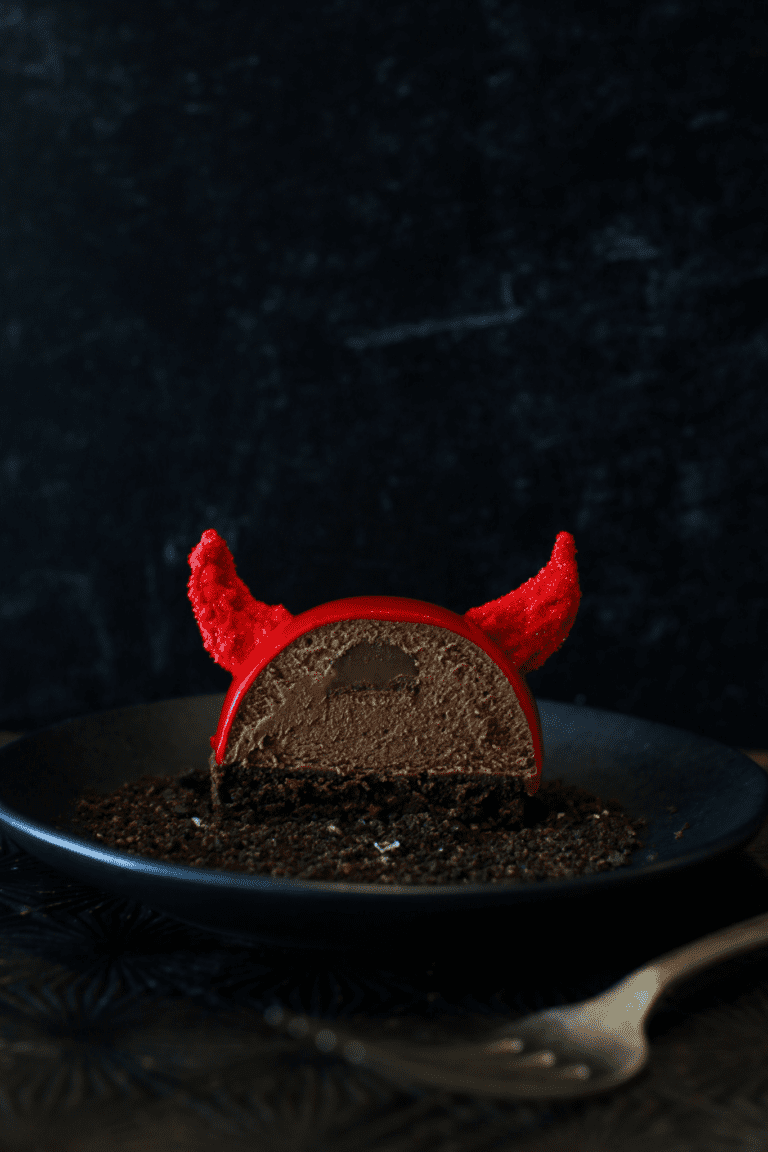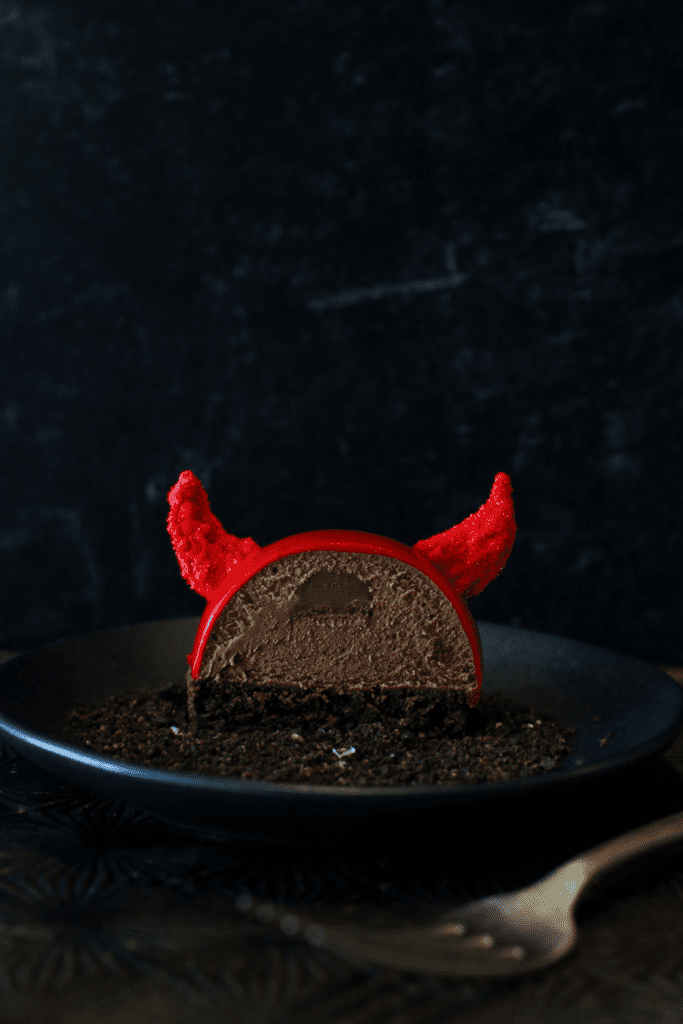 But, what is really impressive is the cross-section! When cut open, you and your guests will be delighted to see lots of chocolate and Nutella! While all these dessert components are time-consuming, they can be split over a few days to make it manageable. Freezing overnight helps the mousse pop out of the molds cleanly and easily. Not to mention, it's a solid base for the glaze. I strongly mention working in batches so none of your mousses gets too warm resulting in a sticky mess. You also need to freeze the cake to cut out clean cake rounds using a round cookie cutter.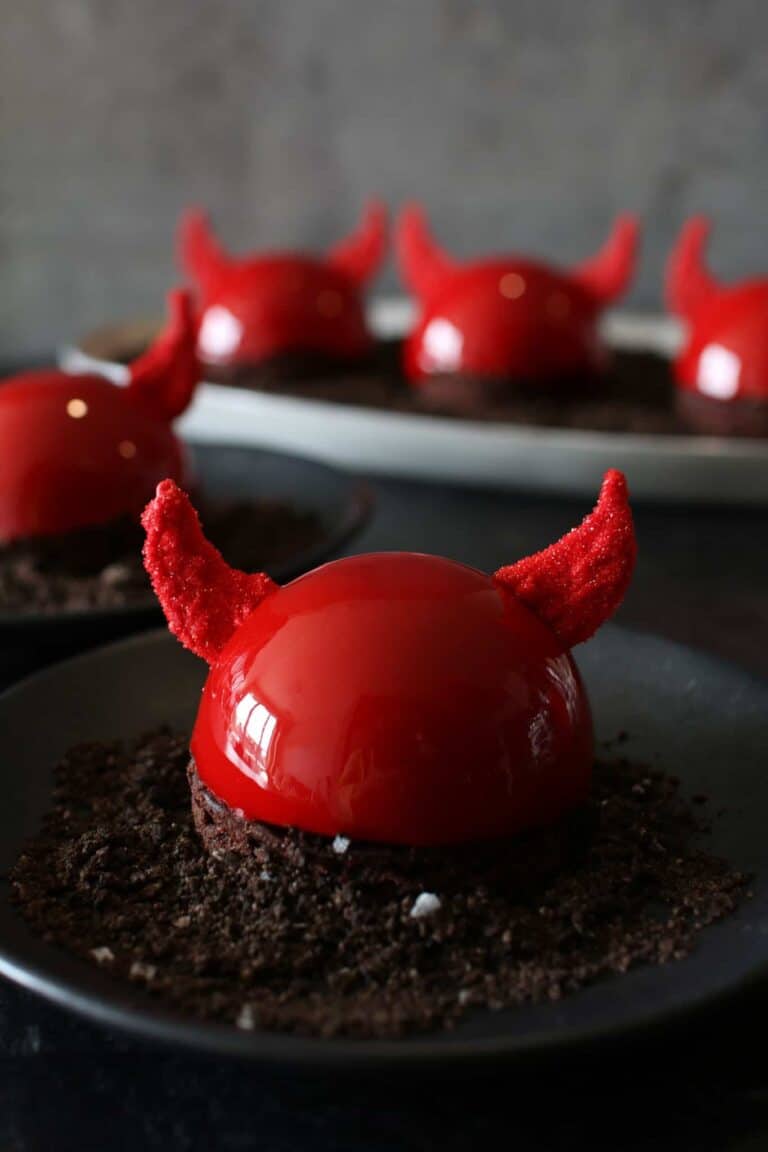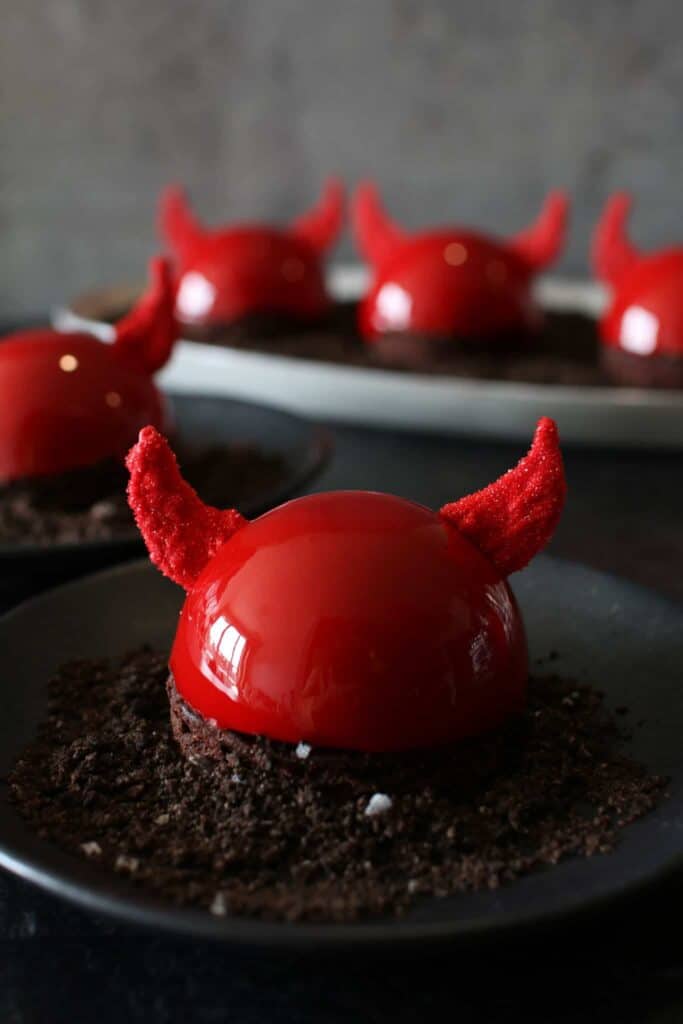 Equipment and Timing for Halloween Nutella Devil Entremets
In terms of timing, give yourself 2 solid days for this whole process, which makes it much more manageable than tackling it all in one go. Make the Nutella mousse + Nutella filling and devil's food cake on day one. The next day, make the glaze, candy melt horns, oreo dirt, and assemble.
The glazed cakes can keep surprisingly well. You can make them a day before you plan to serve. Keep them refrigerated if you do make them ahead of time. But, bring them back to room temperature prior to serving. You'll need the following equipment for this recipe: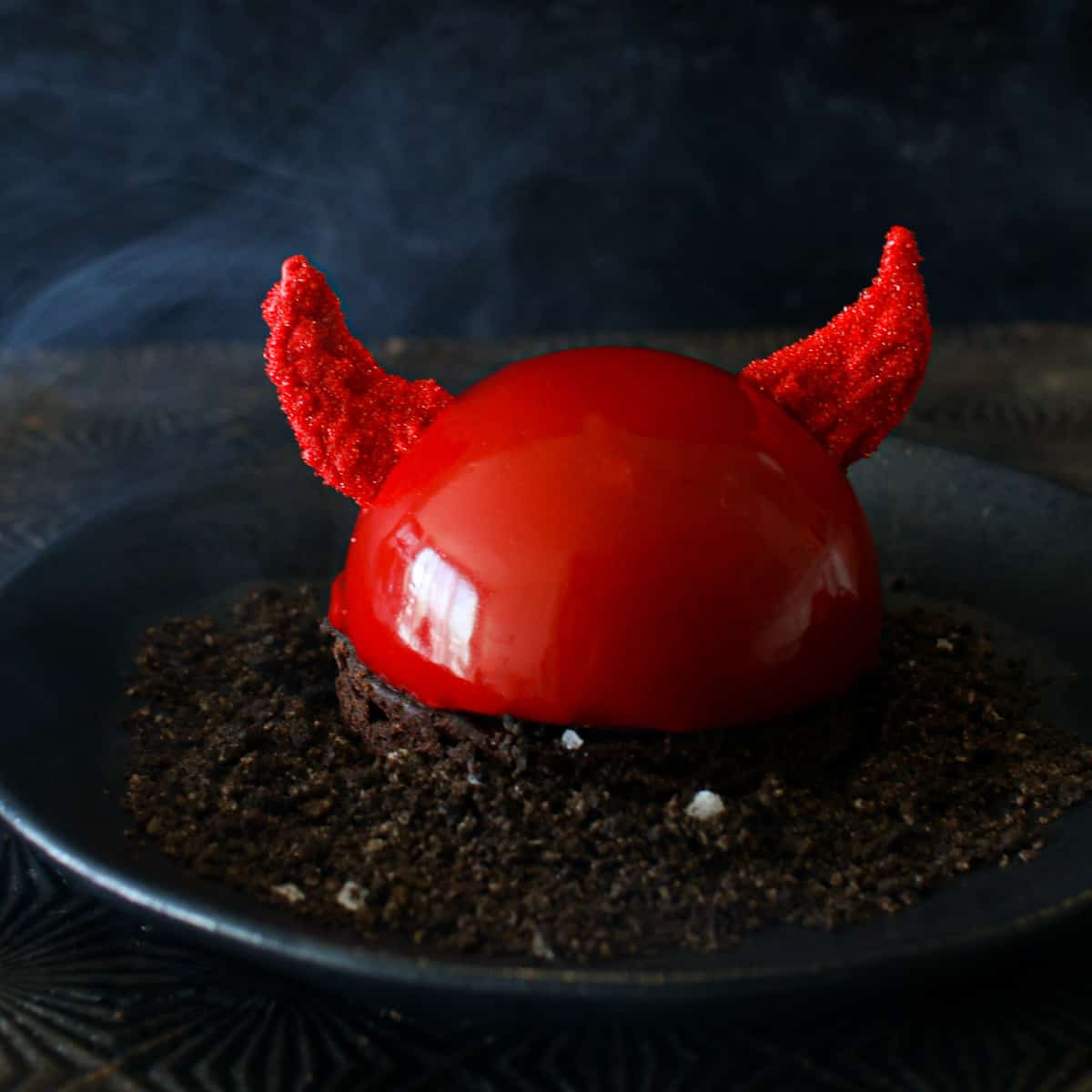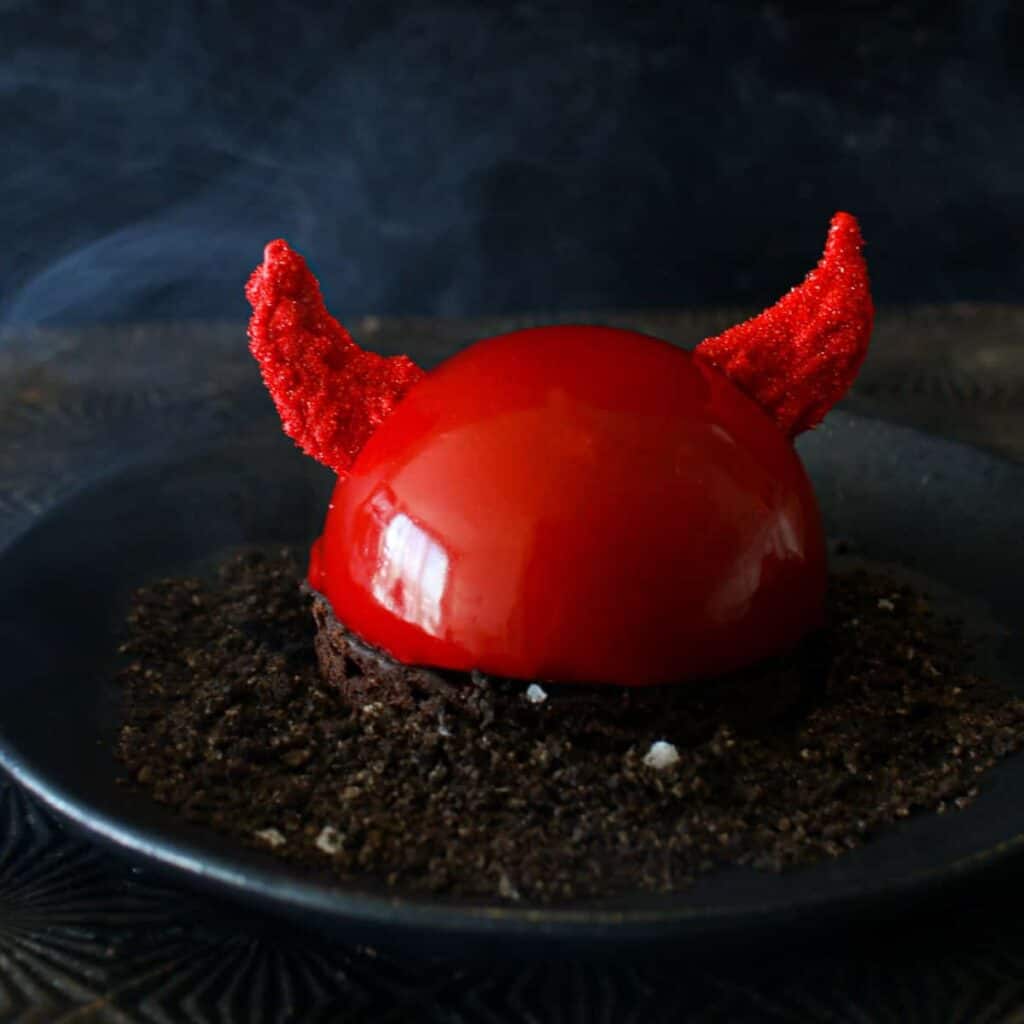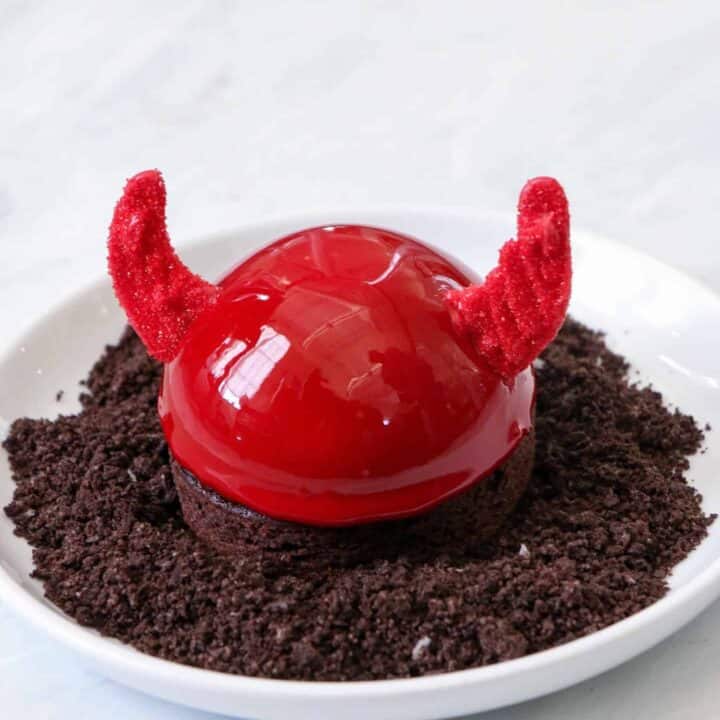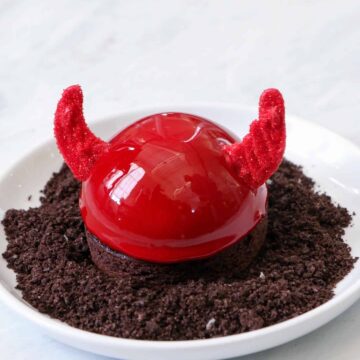 Halloween Nutella Devil Entremet
Get a load of these cute, devilish little desserts! These Halloween Nutella Devil Entremets are sure to impress your guests with their adorable little sparky candy red horns. Not to mention they are packed with delicious nutella and chocolate!
Equipment
Digital Kitchen and Food Scale

Silicone Half Spheres

Candy Thermometer Spatula

Round Cutters in Graduated Sizes

Emmersion blender
Ingredients
Dark Chocolate Nutella Mousse + Nutella Filling
7

grams

Gelatin (powdered)

24

grams

Water

85

grams

Nutella

355

grams

Heavy whipping cream (divided into 120 grams, 235 grams)

128

grams

Dark chocolate (chopped or chips)

81

grams

Nutella

45

grams

Nutella for piping
Devil's Food Cake
60

grams

unsalted butter

room temperature

60

grams

brown sugar

I used dark brown sugar

79

grams

granulated sugar

1

large egg

room temperature

11

grams

vegetable oil

60

grams

hot coffee or water

29

grams

cocoa powder

122

grams

all-purpose flour

1

gram

baking soda

2

grams

kosher salt

123

grams

sour cream
Red Mirror Glaze
70

grams

water

17

grams

gelatin

127

grams

corn syrup

15

grams

water

170

grams

granulated sugar

170

grams

white chocolate

chopped or chips

103

grams

condensed milk

4

grams

vanilla extract

red food dye
Chocolate Devil Horns
65

grams

red candy melts

red sugar sprinkles
"Oreo" Dirt
12

oreos

1

teaspoon

flaky sea salt
Instructions
Dark Chocolate Nutella Mousse + Nutella Filling
Place a stand mixer bowl and whisk attachment in the freezer.

Fill a piping bag with 45 grams of Nutella. Snip a tiny bit off the top.

Set the mold with the 3x1.5cm holes on a small baking tray. Pipe Nutella into 6 of the molds.

Tap the tray a few times against the counter to even out Nutella. Place in the freezer. 

Sprinkle gelatin over cold water in a microwave-safe bowl or mug. Mix.

In a small saucepot, add in dark chocolate (chopped into chunks or chips), Nutella, and heavy whipping cream into a saucepot. Melt over medium heat and whisk until until cobined, and shiny.  Remove from the saucepot from heat.

Melt the gelatin in the microwave for 15 seconds and whisk into the chocolate Nutella mixture until completely incorporated. Set aside for 10 minutes. 

Remove stand mixer bowl from the freezer, using a stand mixer, add in the rest of heavy whipping cream and using the whisk attachment whisk until stiff peaks form.

Add ⅓ of chocolate Nutella mixture to create and fold until combined. Repeat 2 more times with the remaining chocolate Nutella mixture. 

Using a silicone mold on a small baking tray, fill up all molds halfway with Nutella mousse. Tap it a few times against the counter to remove any air bubbles and even out the top surface.

Remove the small Nutella semi-spheres from the freezer and add one to each of the mousses.

Fill with the rest of the mousse and tap it again against the counter to remove any air bubbles. If necessary, use an offset spatula to spread the mousse as smooth and even out the surface. Place into the freezer and let freeze until completely firm, at least 6 hours or overnight if possible. *****
Devil's Food Cake
Pre-heat oven to 350 degrees F. Line a 10"x6.9" sheet pan with parchment paper and spray with non-stick spray. Set aside.

In a stand mixer with a beater attachment, beat butter, brown sugar, and granulated sugar on medium speed for roughly 2-3 minutes until light and fluffy. Scarp as needed.

On low speed, add in egg until combined and scarp if needed.

At medium speed, add in vegetable oil and hot water or hot coffee. 

Remove the mixing bowl from the stand mixer, sift the dry ingredients into the bowl. Mix on low speed with a beater attachment until just combined.

Then, add in sour cream and mix until combined. 

Pour batter into the lined sheet pan.

Use a spatula and smooth out batter evenly. Tap a few times on the counter to remove any air bubbles.

Bake for 15-20 minutes or until a toothpick comes out clean. Let rest in pan for 10 minutes. 

Remove with parchment paper intact then place it on a cooling rack until room temperature. 

Move back into the sheet pan, wrap with plastic wrap and place in the freezer until frozen. 

Using a circle 2.75 inch cookie cutter stamp out 6 cake rounds.

Wrap the rounds in plastic wrap and freeze until assembly.
Red Mirror Glaze
Add gelatin over cold water and mix together in a microwave-safe mug or bowl. 

Combine sugar, corn syrup, and water in a saucepan and bring boil over medium heat until sugar is dissolved. Remove from heat.

Microwave gelatin for 15 seconds and pour it into the sugar syrup mixture and whisk.

Add in sweetened condensed milk and vanilla extract. Whisk. 

Pour in white chocolate (chips or chunks) and let sit for 2-3 minutes (make sure all the chocolate is submerged as much as possible).

Add in red food dye and use an immersion blender until smooth. Pour glaze into a microwave safe bowl, stiring occasionally until glaze reaches 95 degrees F.
Candy Melt Horns
Place the devil horn template on a flat clean surface.

Place tracing paper on top.

Melt red candy melts according to directions on the package. Place in a piping back and snip a tiny bit off the top.

Sprinkle immediately with red sugar sprinkles. Let sit for 30 seconds - 1 minute.

Gently shake leftover sprinkles into a bowl. After a few minutes, carefully remove horns onto a plate and repeat with remianing horns. Pipe out a few extras in case they break.
Salted 'Oreo' Dirt
In a food processor blitz together oreos and flaky sea salt until they are fine grains. Set aside in a small bowl.
Assembly
Once the glaze is between 90-95 degrees F*. Set a baking dish down along with 2-3 shot glasses upside down. Remove 2-3 mousse semi-spheres from the freezer and place on the shot glasses. 

Pour red glaze on top in a circular motion. Let drip for 2 minutes.

Pour red glaze again for extra coverage. Allow the excess glaze** to drip off for 5 minutes, then gently scrape the edges to remove any remaining drops with a butter knife or offset spatula.

Carefully transfer mousse semi-sphere using a the tips of 2 dinner knifes to a devil cake round on a plate***.

Stick in a right and left devil horn into the mousse cake. Pressing carefully. Surround cake with 2-3 tablespoon of oreo dirt.

Repeat with remaining cakes**. ****Bring entremets to room temperature prior to serving.
Notes
*If you glazed has cooled too much, microwave for 15-30 seconds and whisk, repeat until fully melted. Cool again until 90-95 degrees F.
** Between batches, scape up glaze on the bottom of the baking dish into a microwave-safe container to use again.
***Since, I kept the cakes at home and did not travel with them so I did not add an adhesive. To keep the mousse and cake from moving add a tiny bit of leftover glaze to act as a glue between the mousse semisphere and cake.
****You can make them a day before you plan to serve. Keep them refrigerated if you do make them ahead of time. But, bring them back to room temperature prior to serving.
*****Leftover mousse? Place in an airtight container and enjoy with any leftover cake, and oreo crumbs you have. Make sure you store leftover mousse in the refrigerator to set.
Note on timing: The timing is a rough estimate for this dessert. For this recipe, I broke it up into 2 days. Day 1: make cake and mousse. freeze. Day 2: Make the red glaze. While it cools, make devil horn candies, oreo dirt, cut out cake rounds, and assembly. Give yourself a few hours for the entremets to come to room temperature before eating.
Nutritional information for this recipe is only an estimate. The accuracy of the nutritional information for any recipe on this site is not guaranteed. Please calculate your own nutritional information if you want it exact to what you make and use my calculations as a guide only.
Nutrition
Calories:
1398
kcal
|
Carbohydrates:
168
g
|
Protein:
21
g
|
Fat:
74
g
|
Saturated Fat:
50
g
|
Cholesterol:
276
mg
|
Sodium:
886
mg
|
Potassium:
712
mg
|
Fiber:
6
g
|
Sugar:
134
g
|
Vitamin A:
1520
IU
|
Vitamin C:
1
mg
|
Calcium:
319
mg
|
Iron:
6
mg
Tried this recipe?
Tag me on Instagram @makewithmara or hashtag #makewithmara
Looking for something devilishly spicy?
Check out these recipes: Buffalo Onion Dip + Gochujang Lime Popcorn