I love summer produce! What better way to enjoy delicious fruit than in a fantastic spread. This Trader Joe's Summer Fruit & Cheese Board is stunning, super colorful and has something for everyone.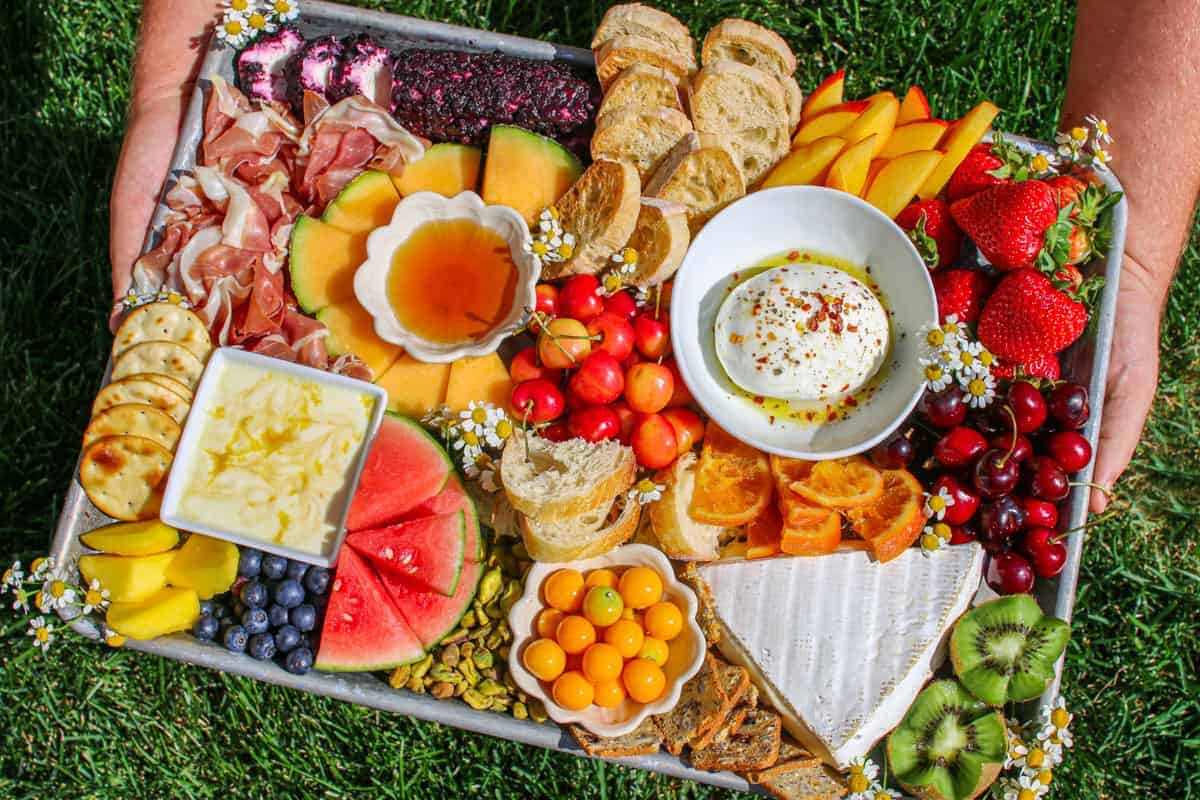 I have officially moved to Denver, Colorado! If you have noticed I've been MIA for a while. I've been through the looooong process of packing, moving, finding a new job, and finding a new apartment. And, now that I am finally settled in I can get back to Make with Mara. While experimenting with baking at altitude and the craziness of moving to a new city, I can finally relax. What better way to relax than with a board of amazing fruits and cheeses while enjoying the clear blue sky and mountain views. This Trader Joe's Summer Fruit & Cheese Board was a perfect way to unwind over the weekend.
My favorite thing about the summer is all the amazing fresh fruits. One of my favorite summar is picking my own berries. When you don't have time to go pick you own fruit, I usually stop at Trader Joe's (or my local grocery store) to grab an amazing variety of fresh fruit, cheese and accompaniments. This Trader Joe's Summer Fruit & Cheese Board has 10 varieties of fruit, everything from classic strawberries which you might find on a traditional cheeseboard to something I've never had before golden berries (aka gooseberries), which taste very similar to a tart grape. Then, something unexpected like tropical fruit such as mango and kiwi.
The Cost
To buy literally everything, it will cost roughly $79.80 + tax. The only thing not includes in on this price are: olive oil, sea salt, pepper, & chili flakes which I feel like are pantry stables.The price breakdown as follows:
Fruit: $29.78
Cheese: $21.87
Bread & Crackers: $10.26
Extras: $17.89
All decor items such as the cheese board, bowls, and flowers are not included in the price.
The Ingredients
Fruit
When purchasing my fruit, I thought of the term "eat the rainbow". I wanted a variety of colors, tastes and textures. I went from everything to classic fruit like strawberries and blueberries, to my favorite summer fruits, nectarines and watermelon, to tropical like the mango and kiwi.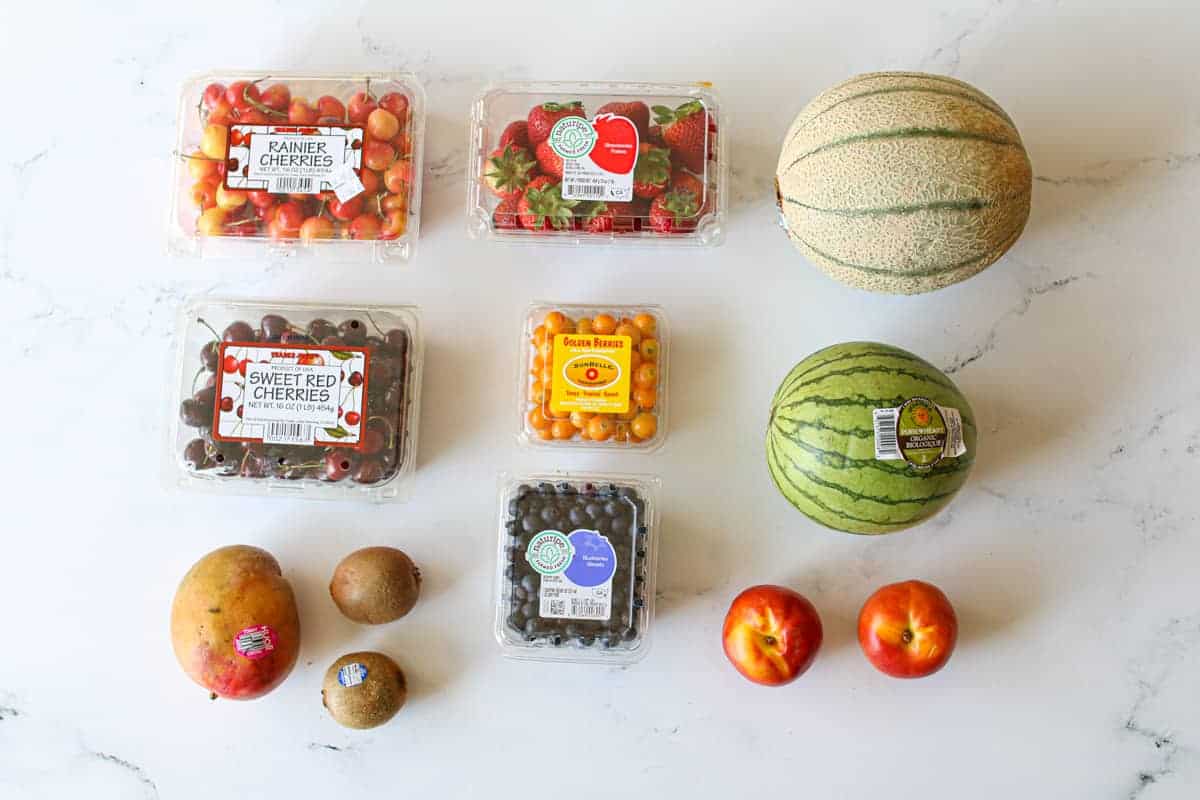 Rainer Cherries
Sweet Red Cherries
Mango
Kiwi
Strawberries
Golden Berries (also known as gooseberries)
Blueberries
Cantaloupe (tuscan-style)
Watermelon (mini)
Nectarines
Cheese
Since this is primarily a fruit board it was important to me to get cheeses that would compliment it. Buttery and rich burrata, earthy and creamy brie, salty and tangy feta and a classic with a twist the blueberry vanilla goat cheese.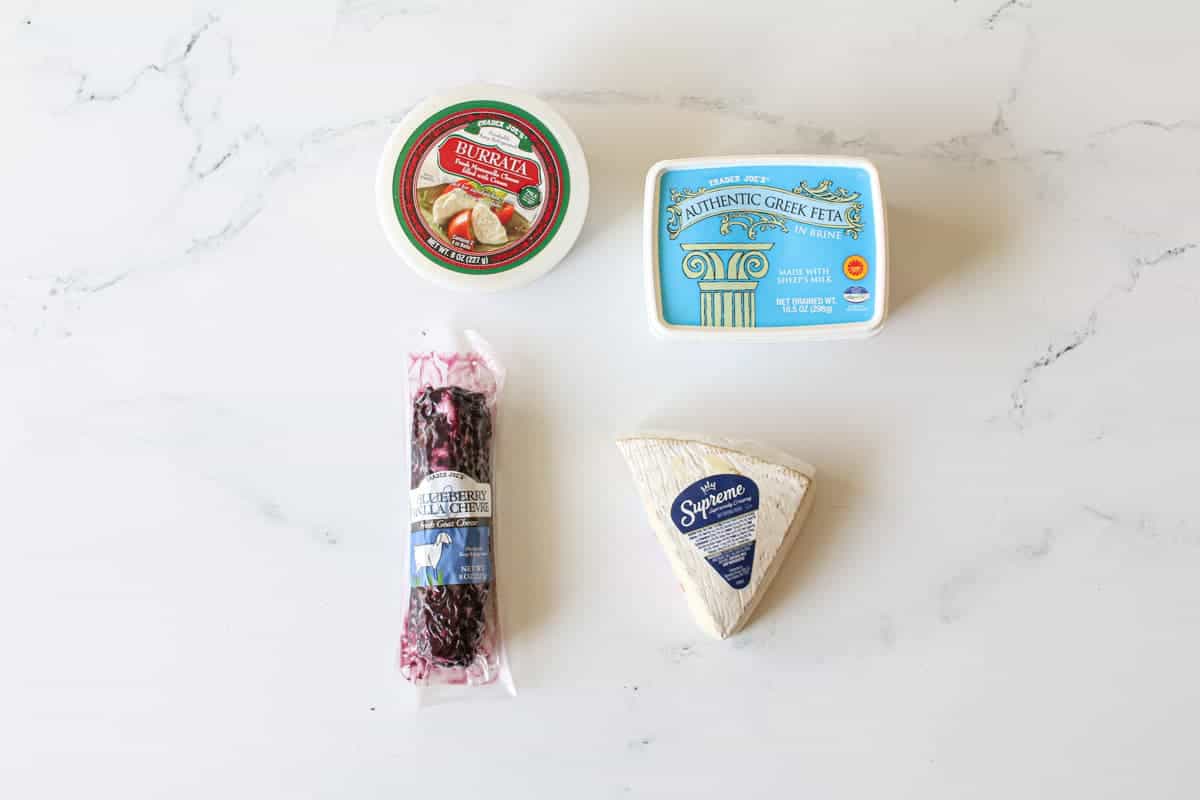 Burrata

Served with olive oil, flaky sea salt, freshly cracked pepper and chili flakes

Greek Feta

Blended with honey, lemon & olive oil. Topped with honey and lemon zest.

Blueberry & Vanilla Goat Cheese
Supreme Brie
Accompaniments
For the accompaniments, I want items that go well together but also things that I can try different flavor combinations with. It's also important to try and get different textures too!
Ciabatta Demi-Baguette

Sliced thinly and toasted

French Baguette
Pita Bite Crackers
Raisin Rosemary Crisps
Sweetened Dried Orange Slices
Prosciutto Di Parma
Lemon (used for the feta dip)
Raw Pistachio Nuts
Hawaiian Macadamia Nut Blossom & Multi-Floral Honey
How to Make This Board
Pre-arrangement: Always make sure all your fruit is properly washed and dried. Then, carefully cut fruit accordingly to your preference. Also, toast bread (optional) and create your lemon honey feta dip.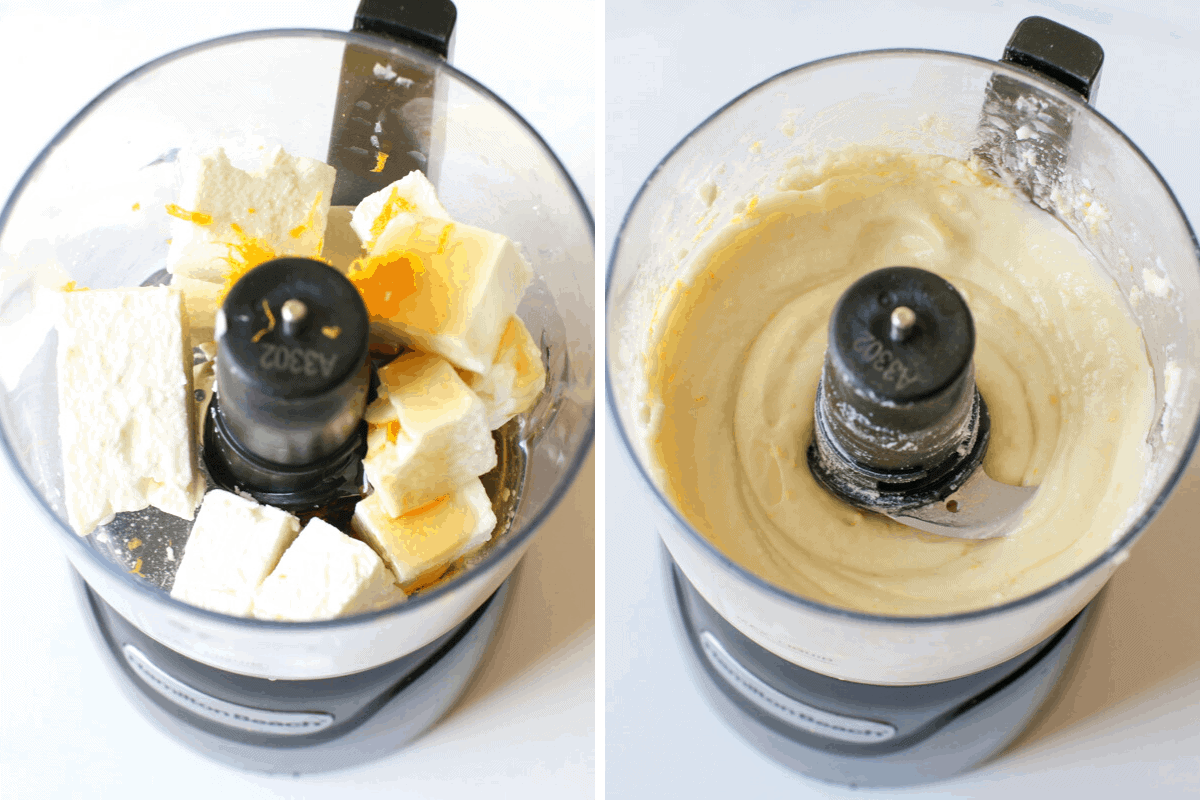 Lemon Honey Feta Dip: Add 5-6 oz of feta to a mini food processor along with 1-2 tablespoons of honey, 1-2 tablespoons of lemon juice, ½ the zest of a lemon and ½ - 1 tablespoon of olive oil. The amount of liquid you use will determine the consistency of your dip.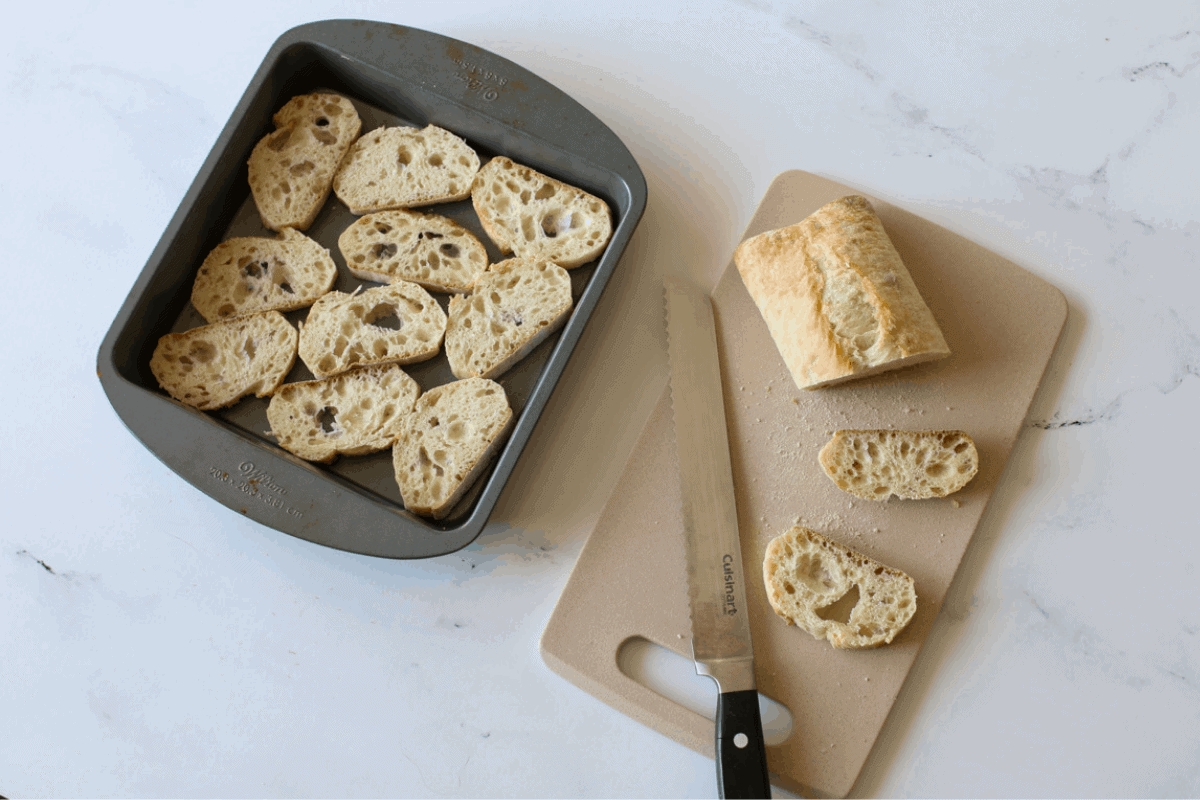 Toasted Bread: Pre-heat oven to broil (low). Carefully, slice the baguette or ciabatta and place onto a baking sheet. Once your oven is pre-heated, broil until desired toasted-ness. I ALWAYS just turn the oven light on and just watch it until its the perfect golden. When it's done to your desired toastiness, carefully remove from the oven with your oven mitts and let it cool until its easy to handle. NEVER PUT PARCHMENT PAPER IN THE OVEN ON BROIL.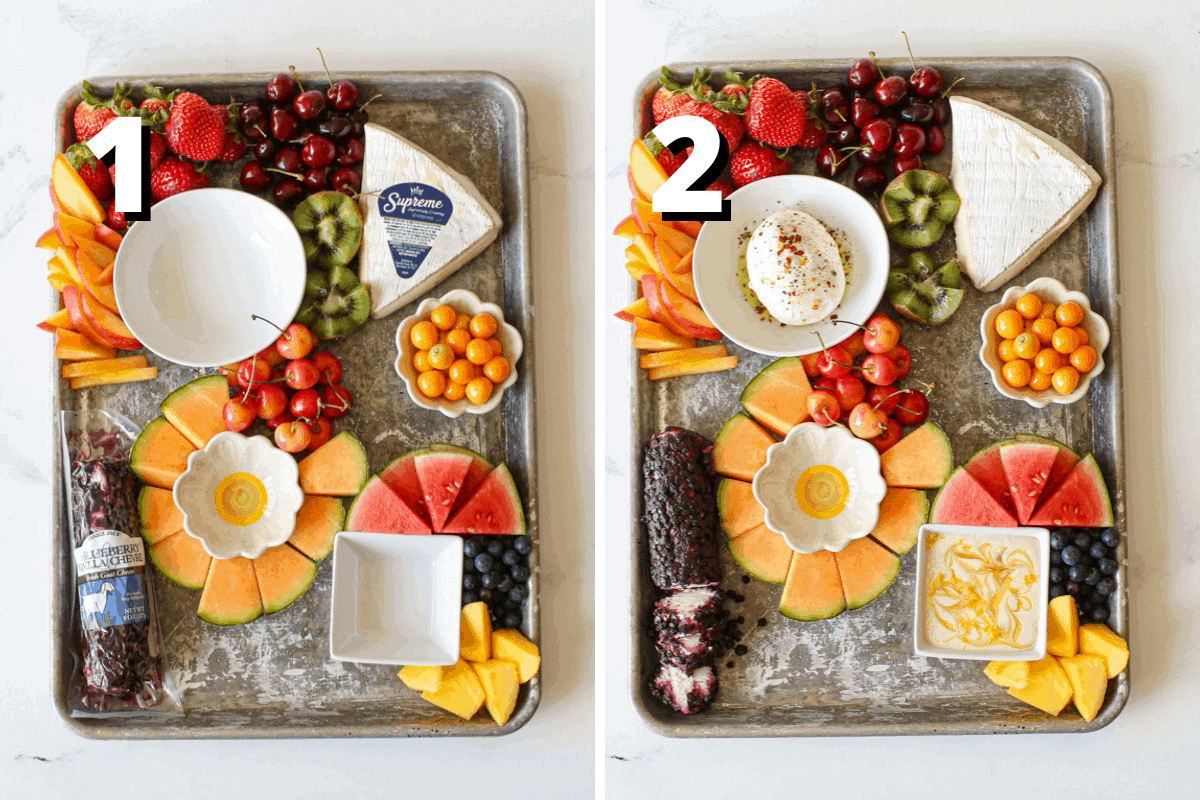 Step 1: Layout your fruit. Pick your serving tray (I went with a baking sheet). Layout your small bowls, packaged cheese and fruit.
Step 2: Plate your cheese! Remove cheese from packaging and "finish" plating your cheese.
Honey Lemon Feta Dip, drizzle with a bit more honey, add leftover lemon zest and use a tooth pick to gently swirl the honey.
For the burrata, drizzle with olive oil, top with freshly cracked ground pepper, flaky sea salt and chili flakes.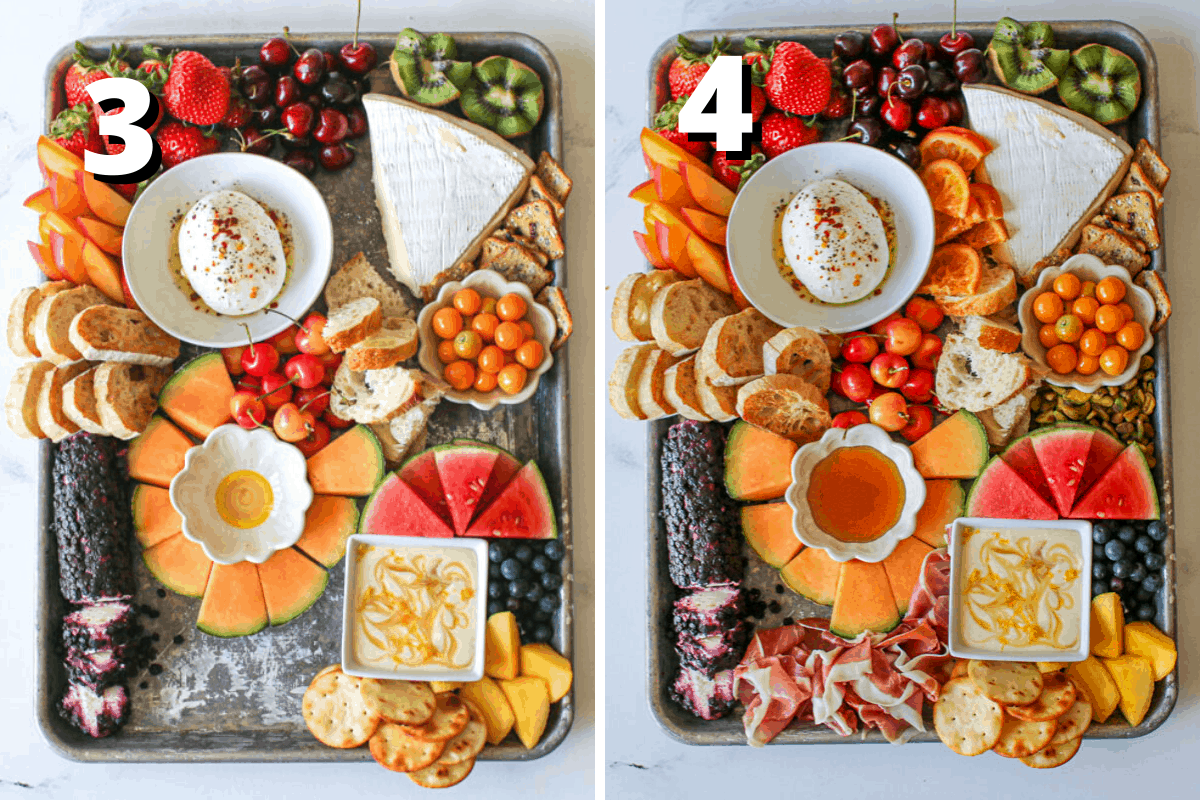 Step 3: Add in your crackers and bread to the board.
Step 4: Add in your extras. I like to try and keep things that would compliment each other close together.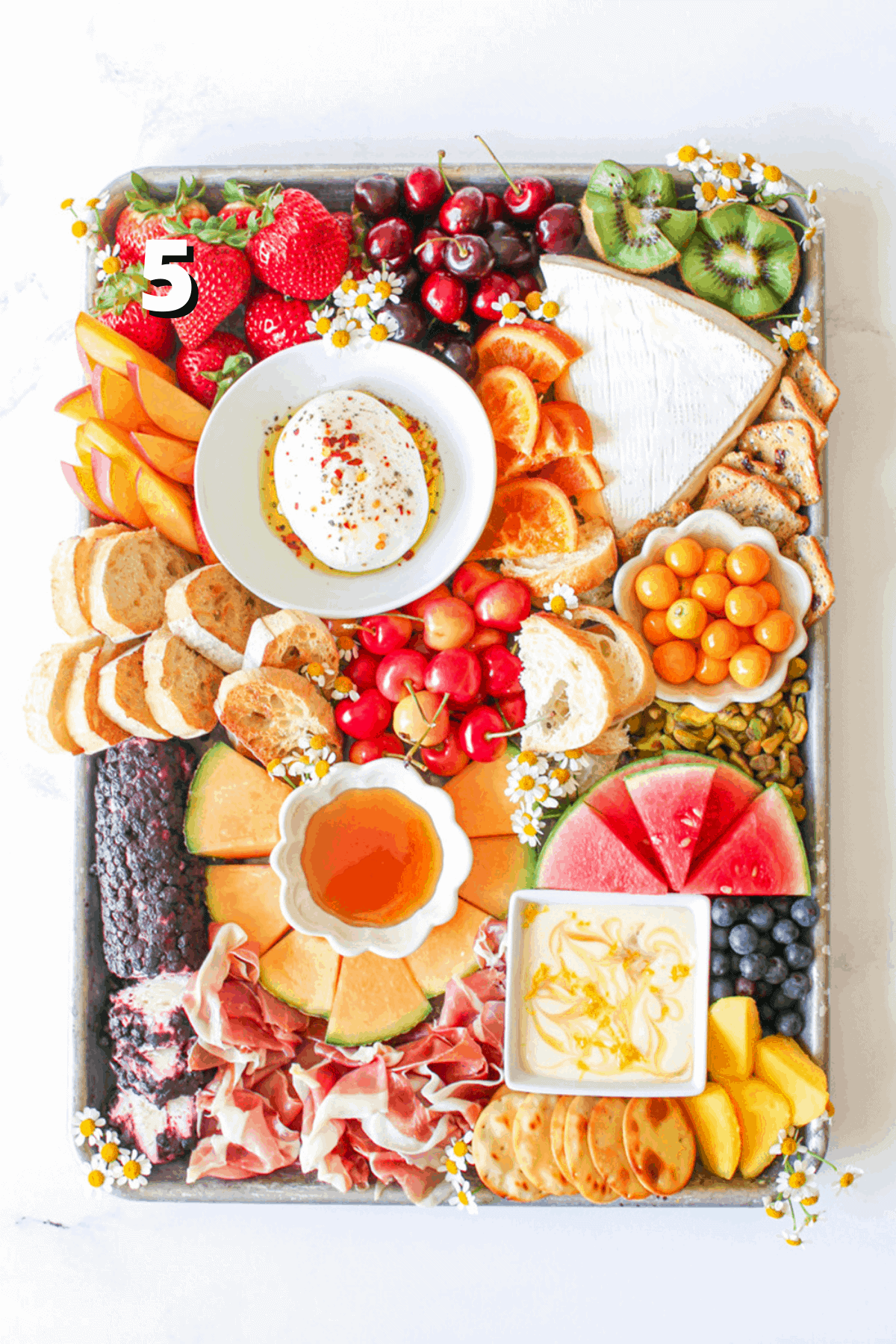 Step 5: Fill in all the holes. I added more fruit, bread and accompaniments to where I thought needed more or to fill in space. Present and enjoy!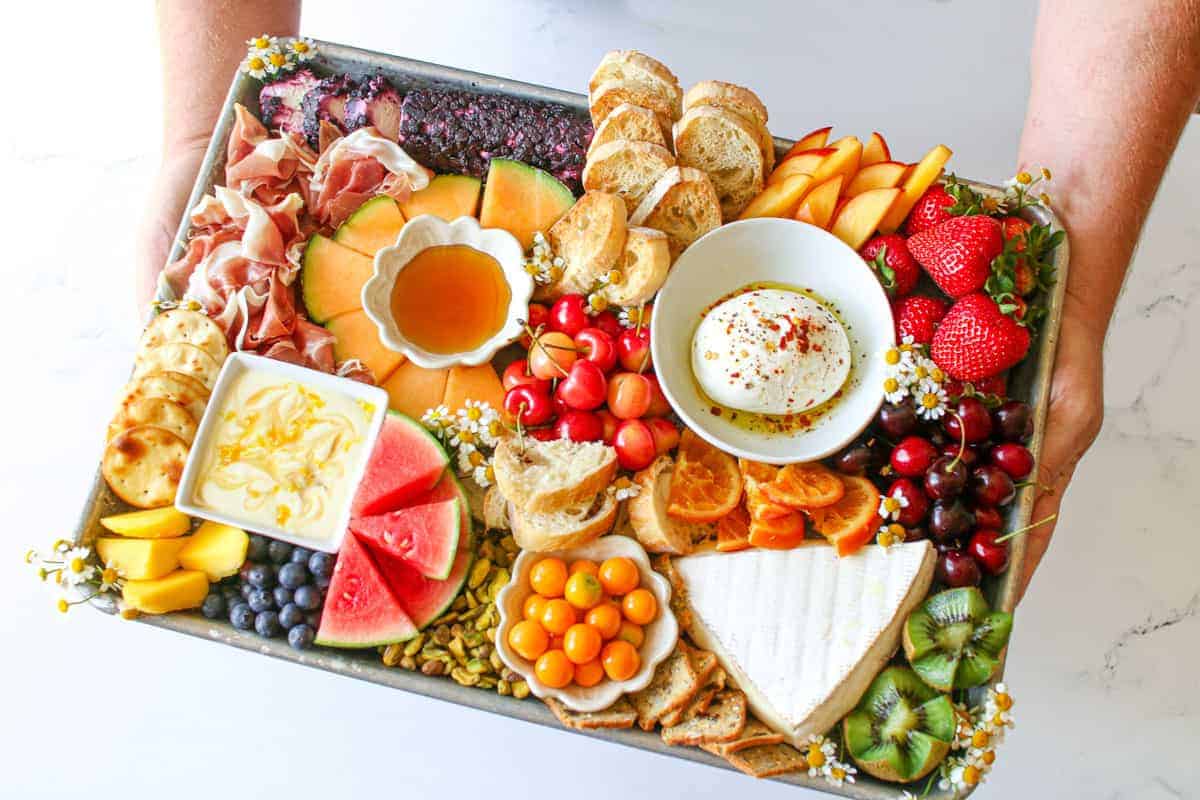 Fruit & Cheese Board Notes
More fruit suggestions? I truly believe boards should be all about things you love and trying new things! Here's a list of some other fruit you could add to your board. Please note that you might not be able to find all of these at Trader Joe's or your local grocery store. Try going to your local international grocery store to get your hands on tropical and exotic fruit!
Tropical: Pineapple, papaya, coconut
Exotic: Lychee, star fruit, dragon fruit, guava
Berries: blackberries, raspberries
Stone fruit: peaches, plums, apricots
classic cheese board fruit: figs, apples, grapes
How many does this board serve? Roughly 2-4 people hungry, 6-10 people snacking
What do I do with the leftover fruit?
Freeze for smoothies!
Fruit salad or salad with fruit
Use in cocktails or mocktails
Flavor combinations recommendations for the board? A few of my favorites...
watermelon + honey feta lemon dip + pistachios
strawberries + brie + honey + crostini
nectarines + burrata + prosciutto + crostini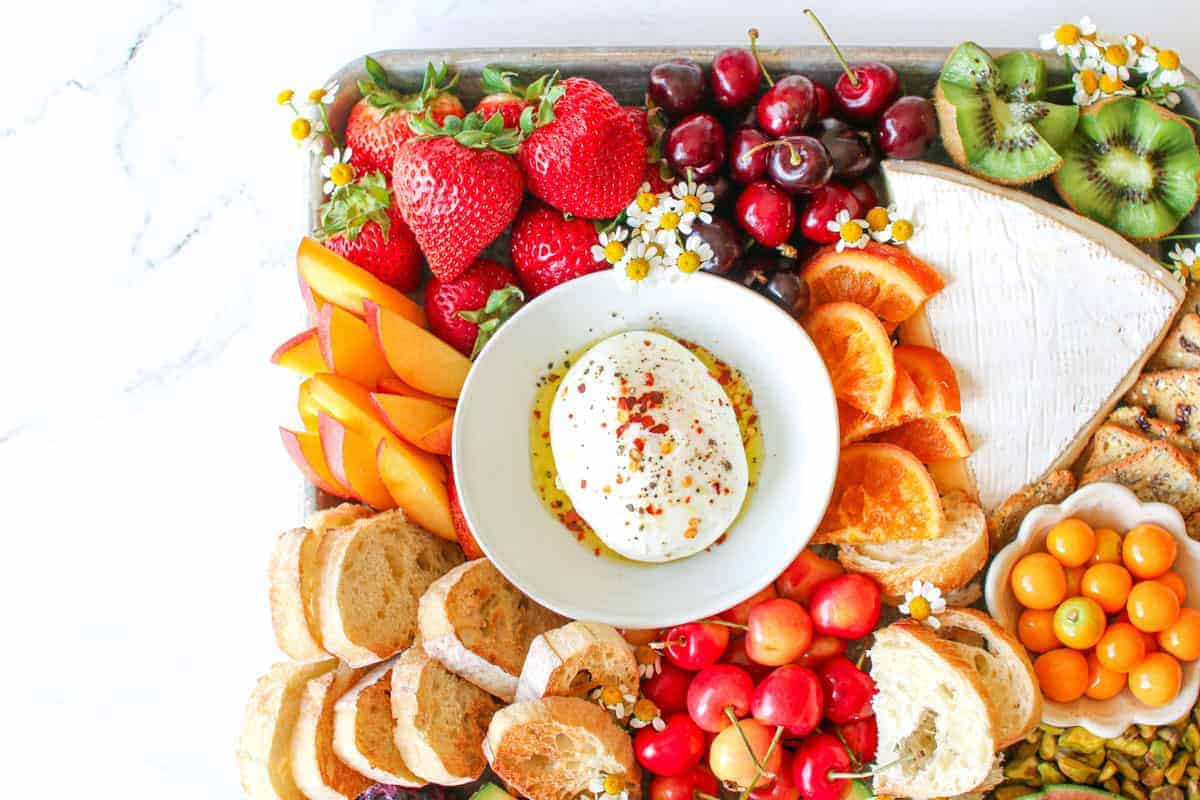 Love cheese? Check out these cheese boards and recipes?
Truffle Honey Baked Brie: Forget expensive cheese platters - wow your friends and family with this Truffle Honey Baked Brie!
Trader Joe's Winter Cheese & Charcuterie Board: Make a list... Check it twice... Cause we're eating lots of cheese tonight!