Make a list... Check it twice... Cause we're eating lots of cheese tonight!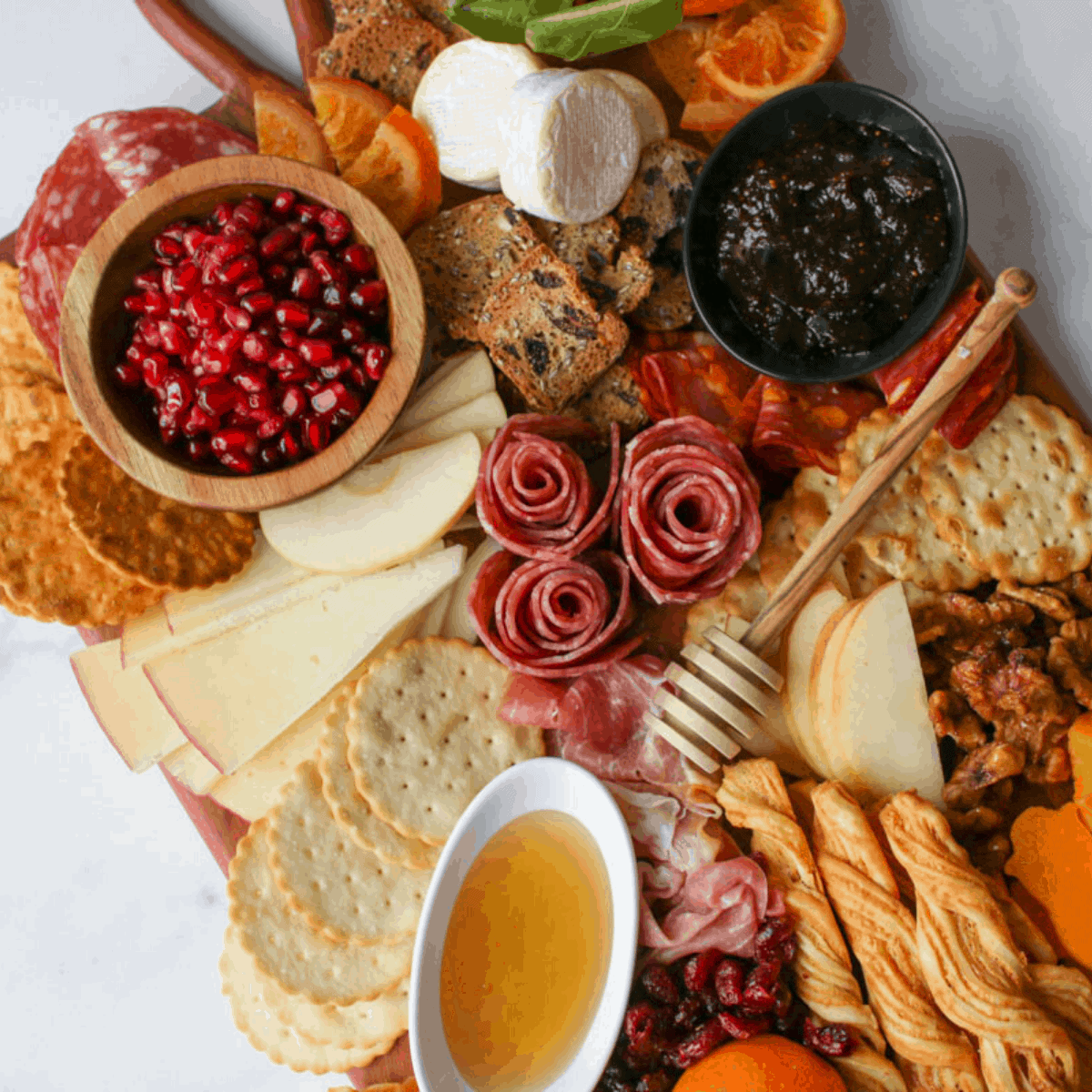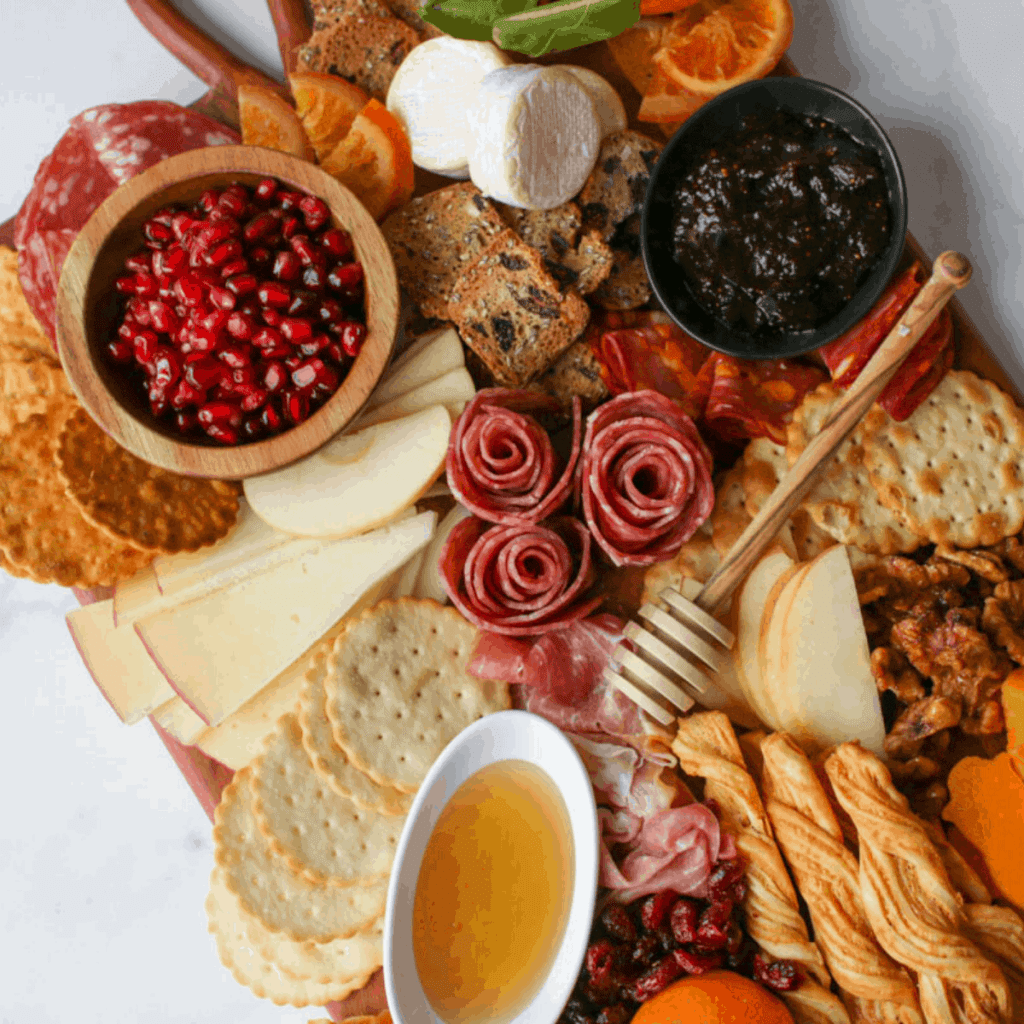 This year, I decided what better way to watch holiday movies than with a Trader Joe's Winter Cheese & Charcuterie Board perfect for grazing. Trader Joe's is one of my favorite places to shop for delicious and reasonably priced cheese! Along with tons of charcuterie options and snacking goodies to help build a perfect board. One trip and you can have everything to build a seriously bountiful and beautiful board. With COVID-19, this board was just for my boyfriend and me but with all the goodies I had, I made 2 grazing boxes for my friends to enjoy as well.
This is not really a recipe but more of a how-to make this stunning winter cheese and charcuterie board. I love boards like these because of the variety, stunning presentation, and ability to try tons of different flavor combinations.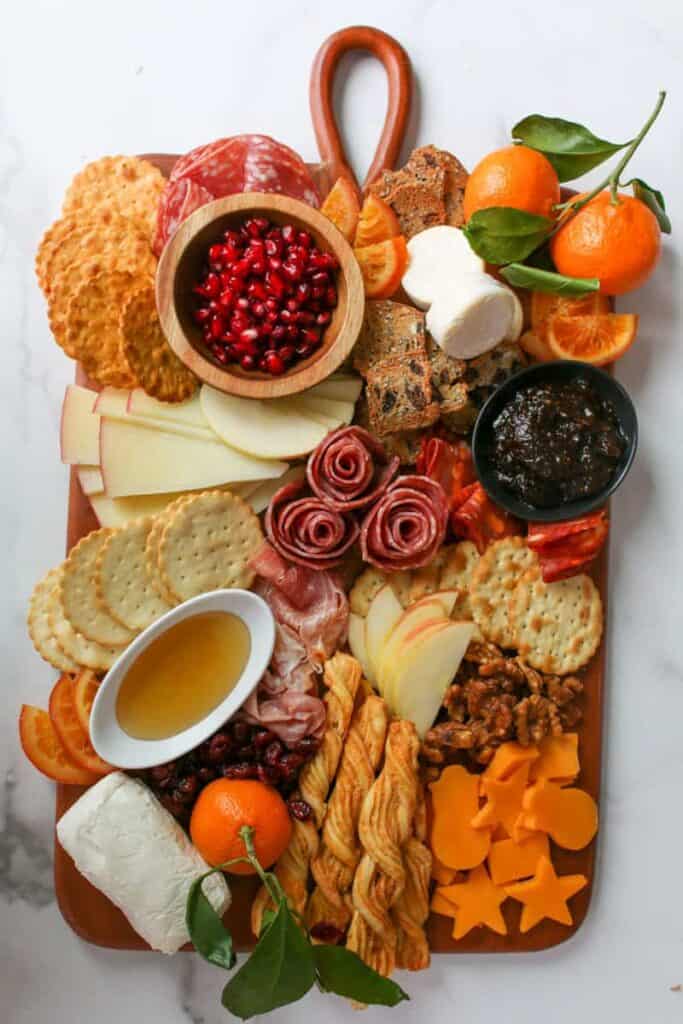 The Cost
All the ingredients cost me roughly $67-70 + tax. I accidentally threw away the receipt so I had to do some internet digging for prices. I know $70 is A LOT to spend on cheese and meat BUT the catering company I work for sells a basic antipasto display for $60. The board itself could feed 2-3 hungry eaters or 4-6 grazers. Not to mention I made 2 individual meat and cheese boxes. Any leftover accompaniments and crackers can be used in the future. (Note: that I had leftover honey, fig butter, orange-flavored dried cranberries, candied walnuts, and California stem & leaf mandarins. These items are perfect as a snack or to top a tasty winter salad.)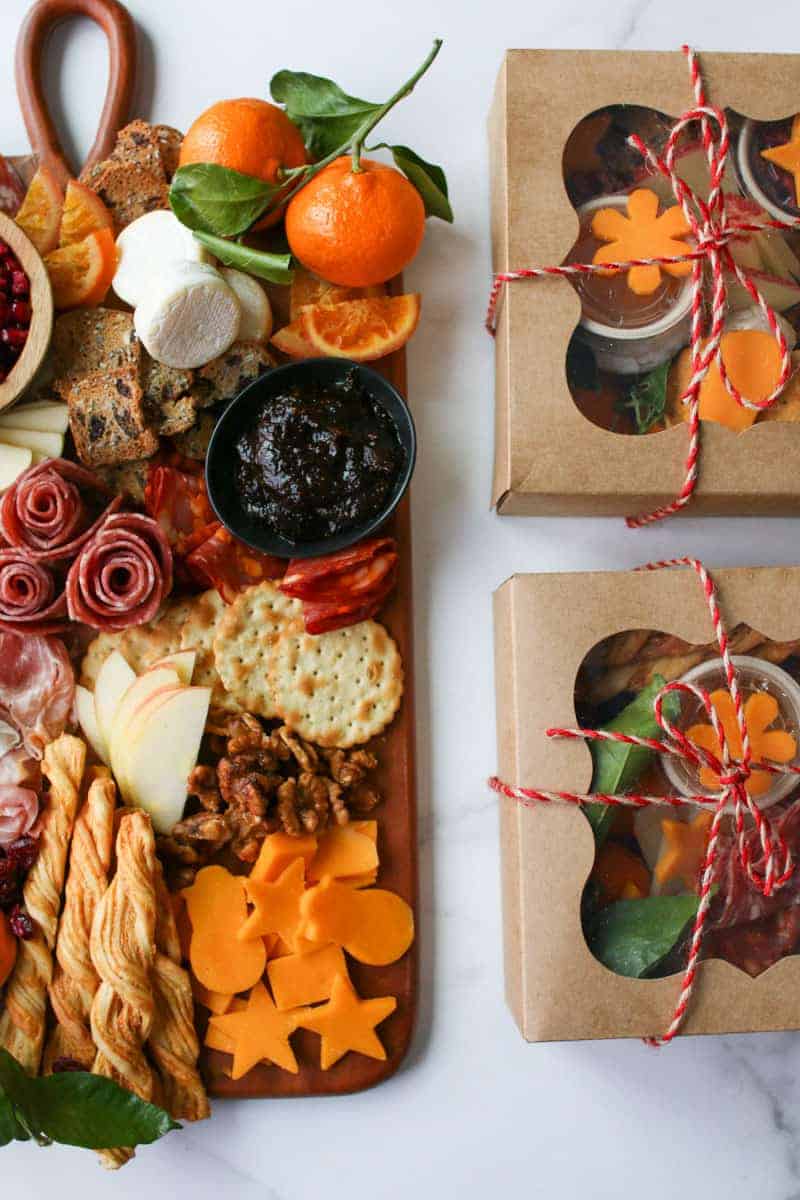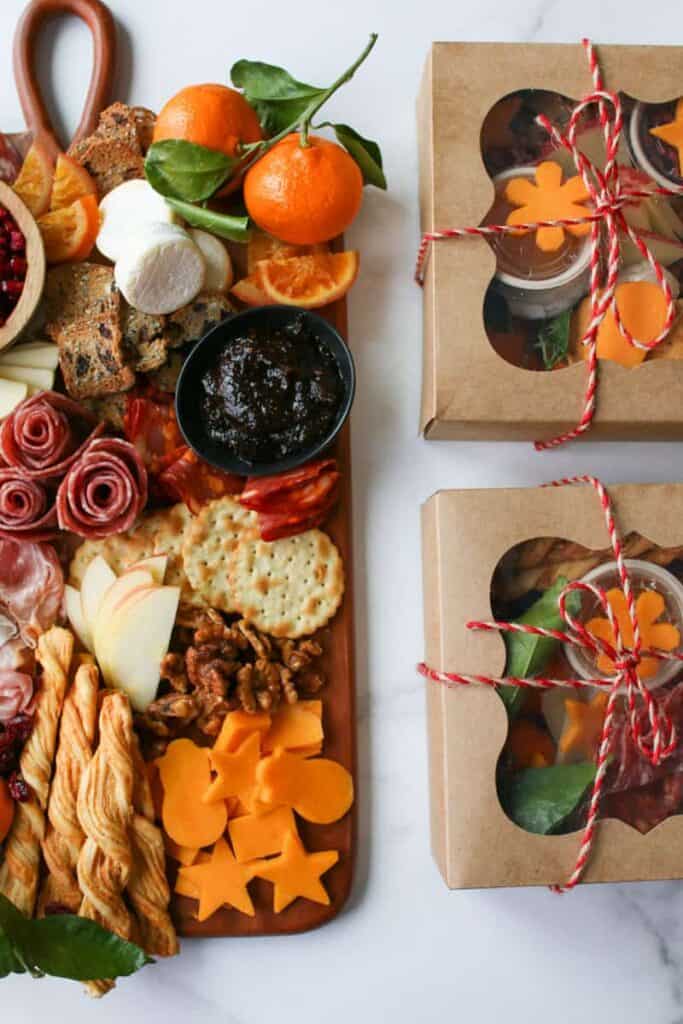 Trader Joe's Winter Cheese & Charcuterie Board Ingredients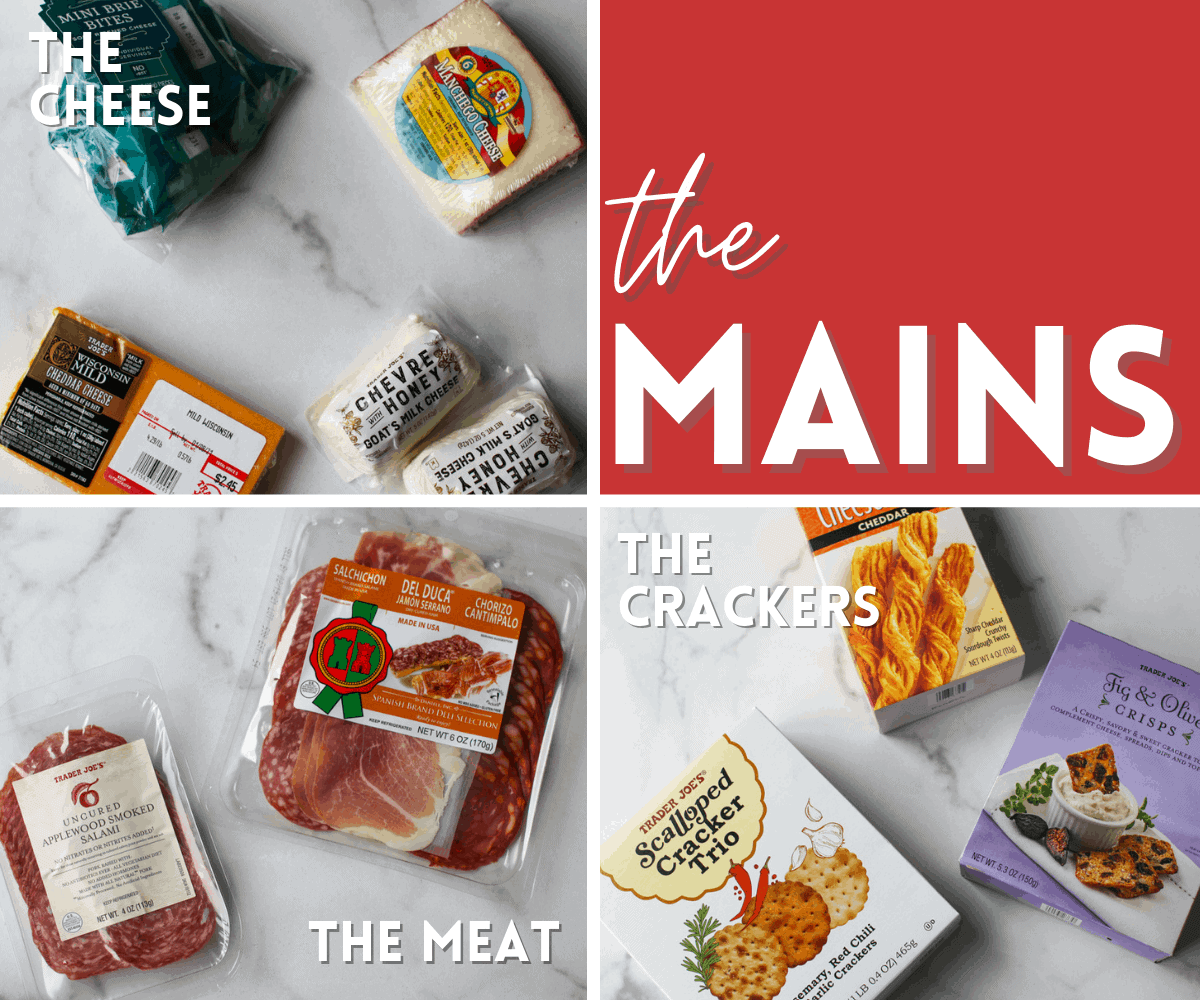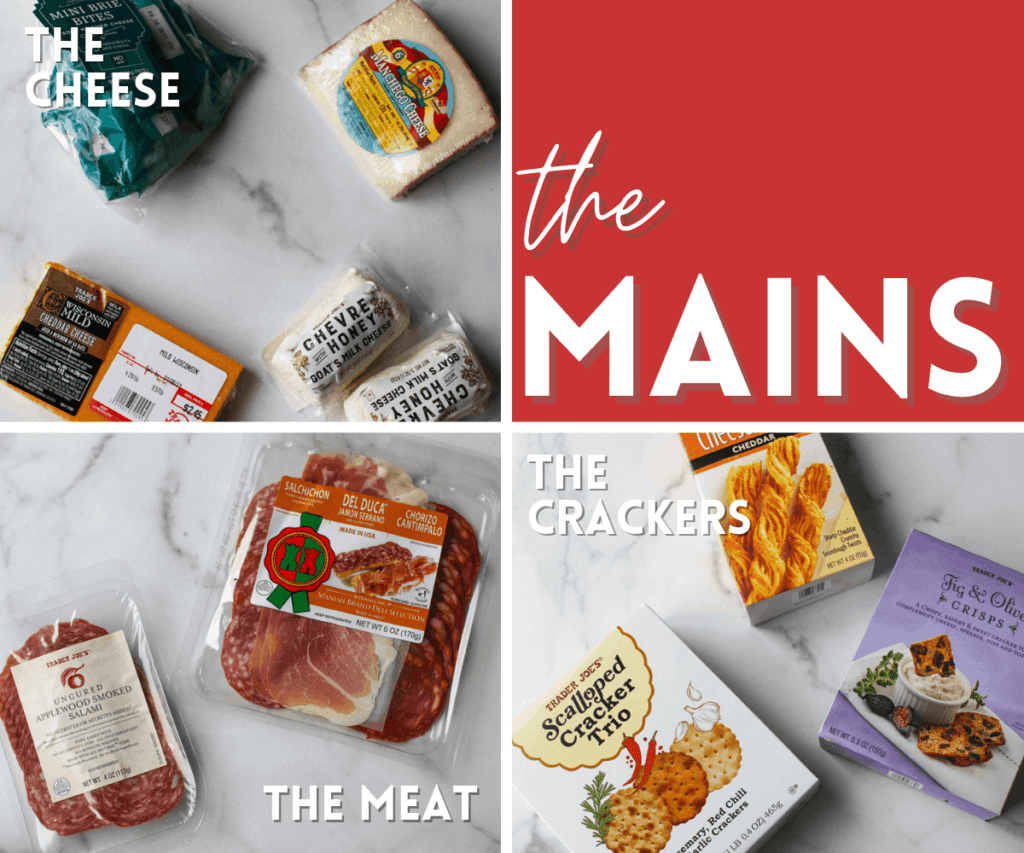 For the cheeses, I decided to go with the ones that I love. Cheddar, a classic. Tangy goat cheese sweetened by honey. Rich and buttery mini brie bites. Salty & nutty Manchego. With cheese, we have to have meat. I grabbed The Spanish Brand Deli Selection which had Salchichon (Spanish salami), Jamon Serrano (dry-cured ham), and Chorizo Cantimpalo (Spanish chorizo). I also grabbed extra salami because I knew I wanted to try my hand at salami roses.
Now the crackers. These are the vessels for all your meat and cheese so I wanted A LOT of options - some plain options, something interesting, something cheesy and I still need something spicy too on the board. From the Scalloped Cracker Trio, the red chili flavored cracker was my favorite! It packed a delicious heat. The cheese sticks were super crunchy and flavorful. Fig and Olive Crackers we're not only stunning but we're ultra crunchy with an interesting taste.
The Cheese:

Wisconsin Mild Cheddar Cheese
Chevre & Honey Goat & Milk Cheese
Mini Brie Bites
6 Month Spanish Manchego Cheese

The Meat:

Uncured Applewood Smoked Salami
Spanish Brand Deli Selection

The Crackers:

Scalloped Cracker Trio
Fig & Olive Crisps
Cheesesticks Cheddar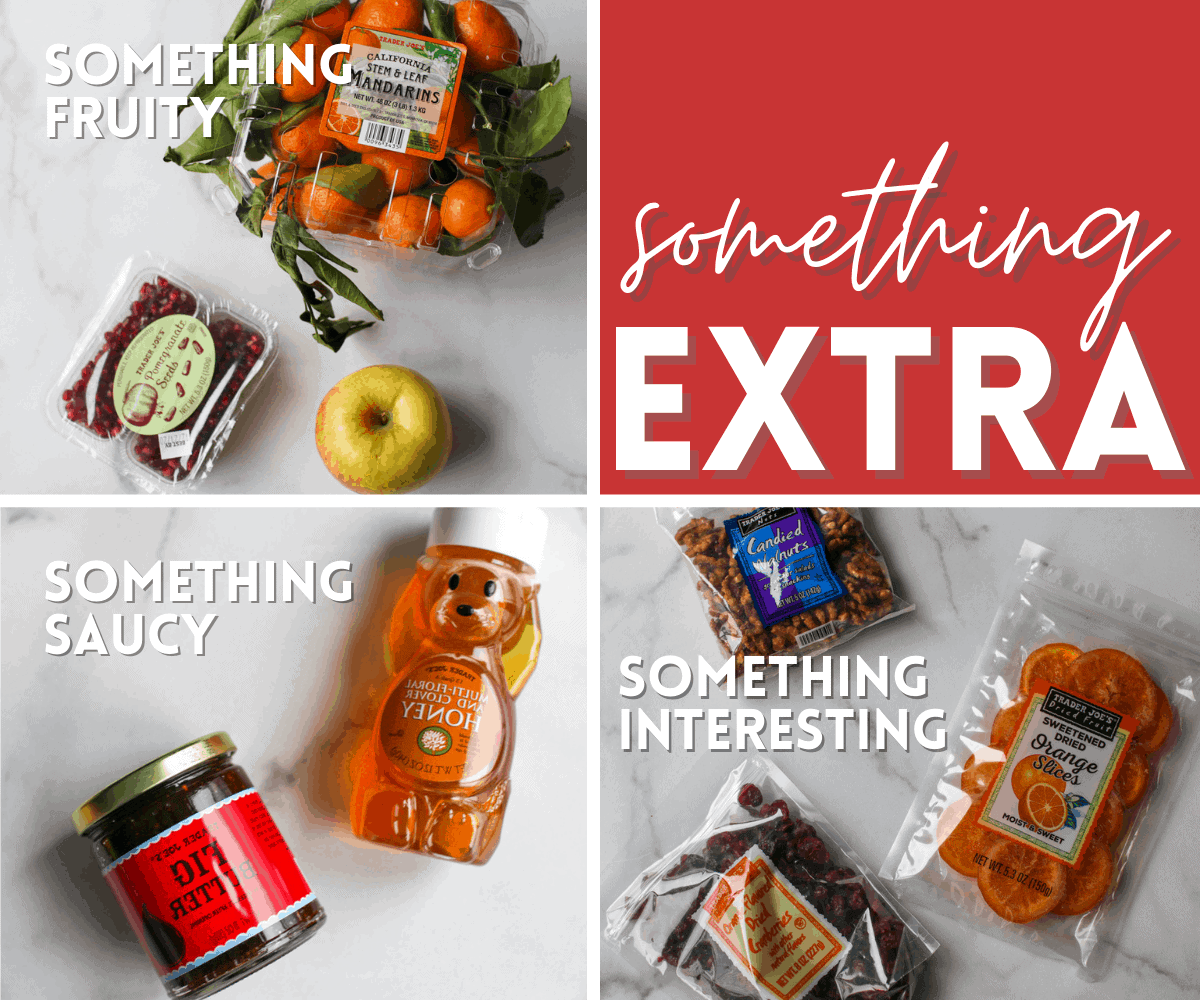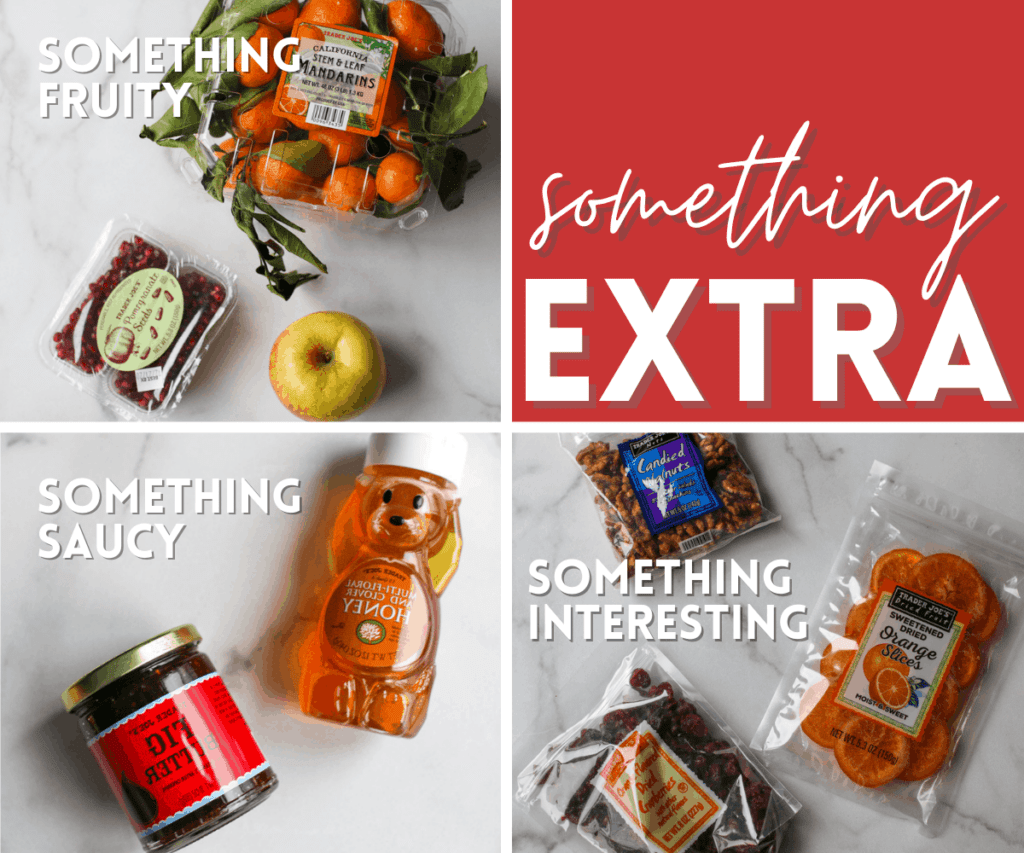 For this particular cheese & charcuterie board, I went with lots of orange-flavored items. I promise I really didn't think about it at the time. I also went with fig butter. It was something new BUT something super seasonal. The candied walnuts and pomegranate seeds also offered crunch to the board.
Something Fruity

Mandarin oranges
Pomegranate seeds
Honeycrisp apple

Something Saucy

Multi-Floral and Clover Honey
Fig Butter

Something Interesting

Orange Flavored Dried Cranberries
Sweetened & Dried Orange Slices
Candied walnuts
Trader Joe's Winter Cheese & Charcuterie Board Step-by-Step Photo Process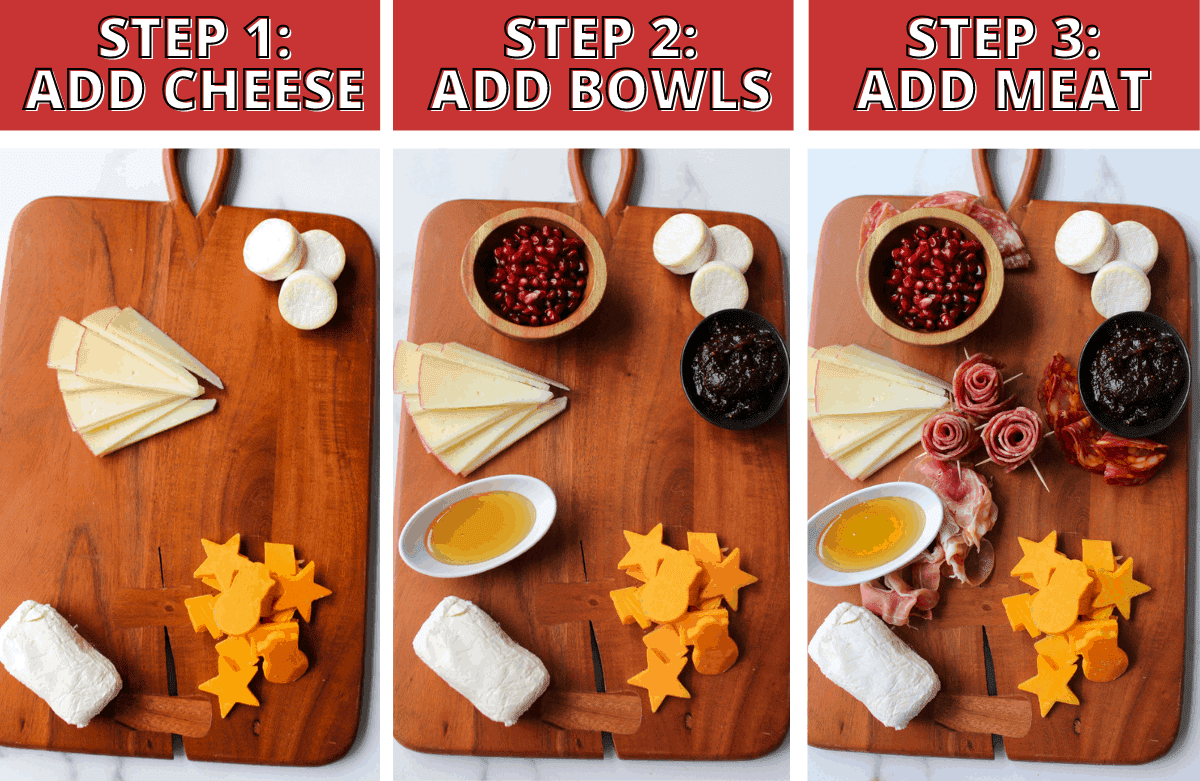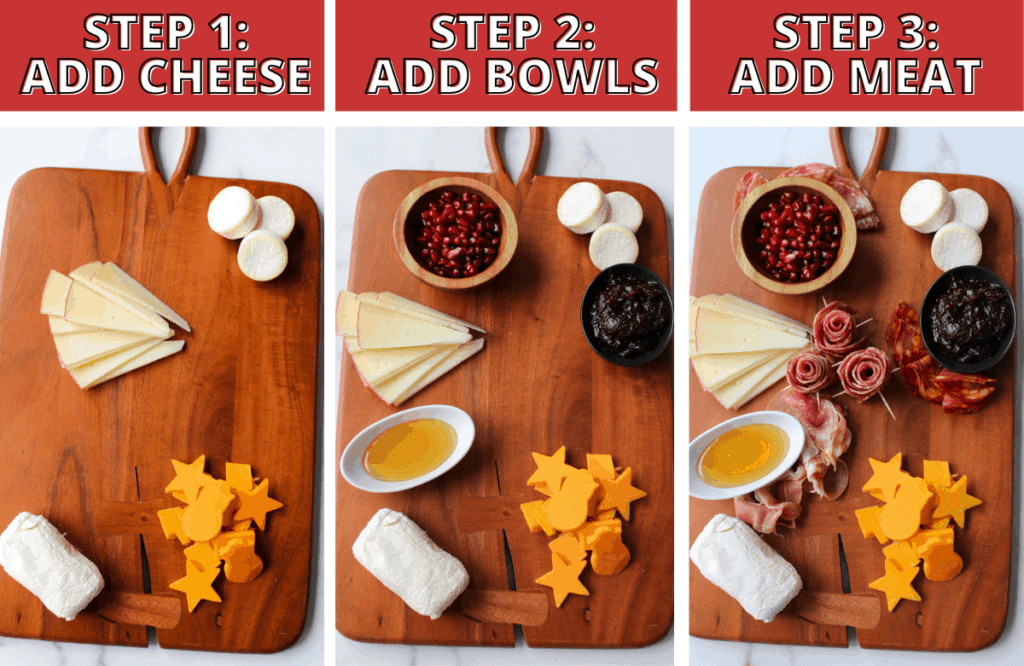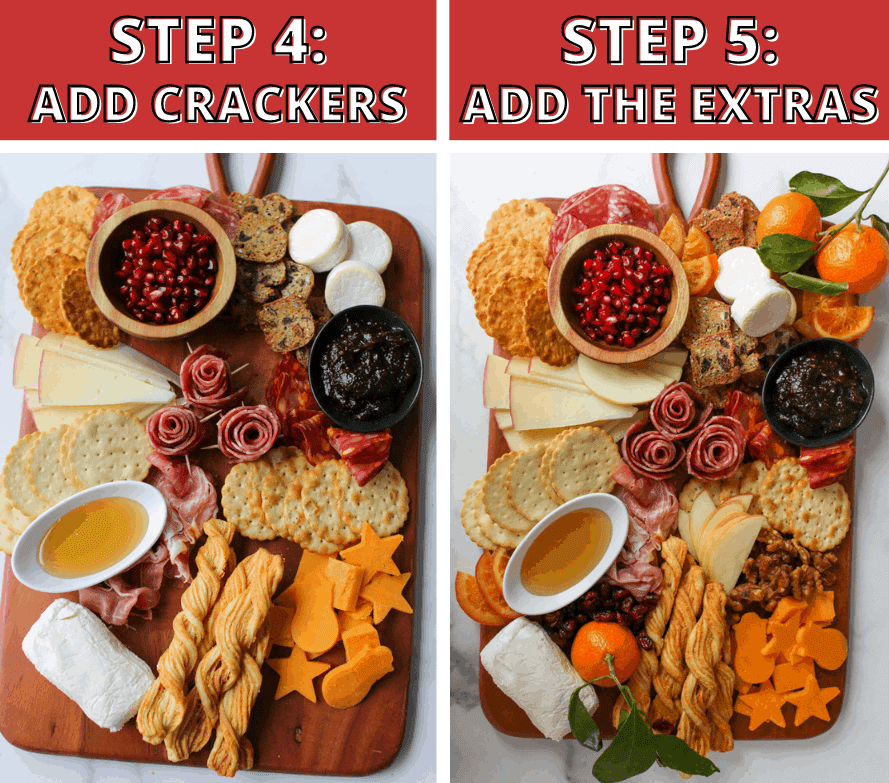 Pre-arrangement: Before arranging your board. Prep everything so you can see all of your items laid out. This includes: Cutting your cheese (I used a mini cookie cutter to cut out a few cute winter shapes of cheddar). Washing your fruit and leave them to dry. Bowling up your honey, jam, pomegranates aka all your saucy or wet items. Finally, pick out your favorite cheeseboard like this stunning wood board from Crate and Barrel or platter to let your board come to life.
Step 1: Place your cheese down. Since I had 4 varieties I put them roughly in the corners of each board.
Step 2: Place bowls roughly in between the cheeses. I used bowls of different sizes and colors to give the board more interest.
Step 3: We have lots of MEAT! So, it's time to add them to our board. Salami roses are placed in the center of the board as a focal point. The chorizo and other salami slices were pretty large so I folded each slice over twice into a triangle and place it around two of the bowls. Finally, drape prosciutto around the final bowl.
Step 4: Next, place your crackers. Lay a handful of each cracker down knowing that they could easily be replenished.
Step 5: Finally add in everything else! Fill in every crevice. Now, it's time to enjoy your cheese & charcuterie board! Note: It's best enjoyed at room temperature!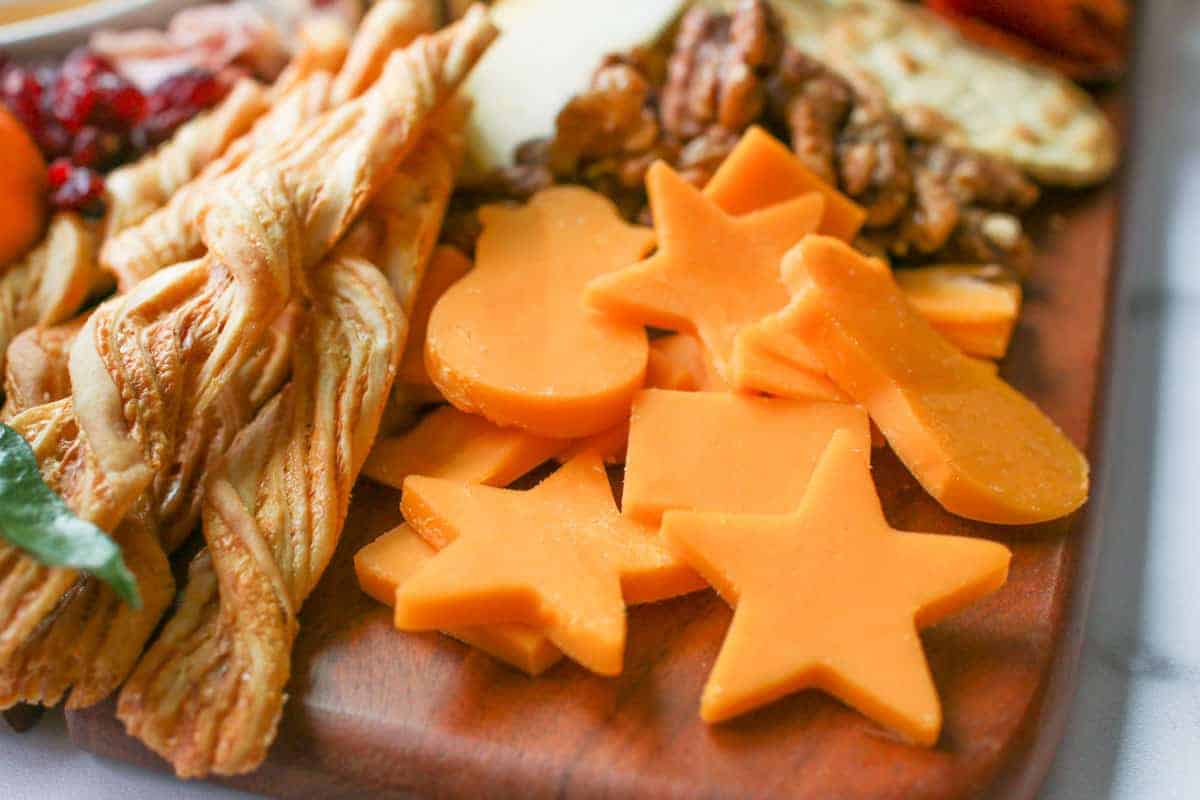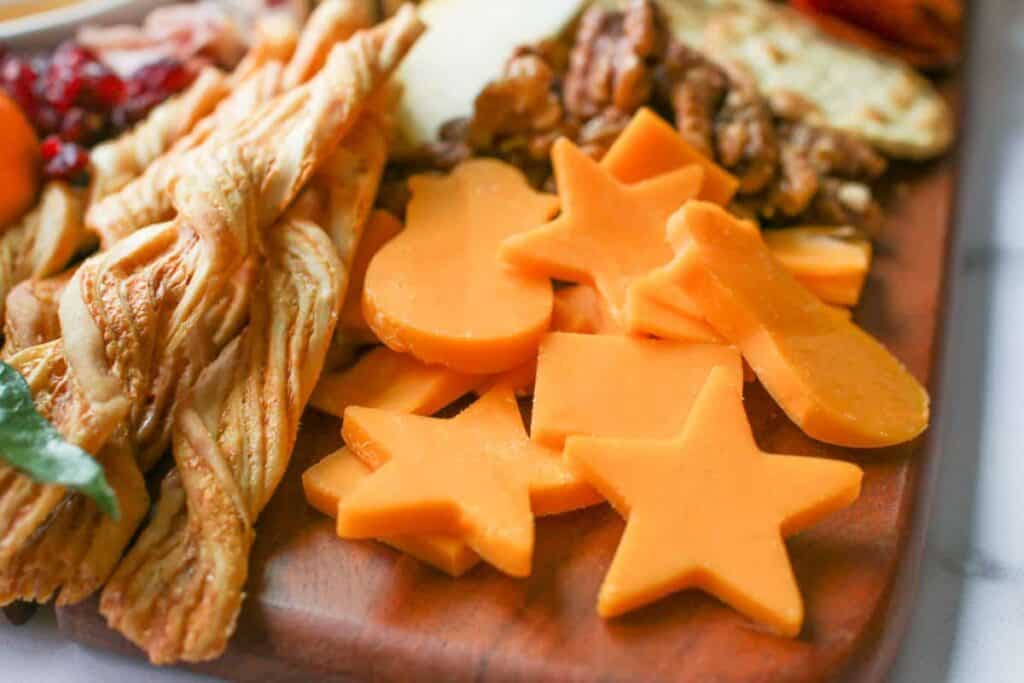 Tag me on Instagram @makewithmara if you make your own winter cheese & charcuterie board. I want to see what you crEATe and let me know what your favorite cheese is!
Recipe Notes
My favorite combinations?

Spicy cracker + goat cheese + honey + dried cranberries
Fig crackers + brie + mandarin
Rosemary cracker + apple + brie or goat cheese + honey
Cheese twist + Salami

Too many leftovers? Transform them into cheese & charcuterie boxes for your friends and have a virtual happy hour!
Don't like ______? The best part of charcuterie & cheese boards is the customization. There are tons and tons of cheese, meat, and garnish options out there. Pick your favorites but I encourage you to place 1-3 items that are new for you to try. If you don't like it, most likely someone else will.
Where'd you buy that?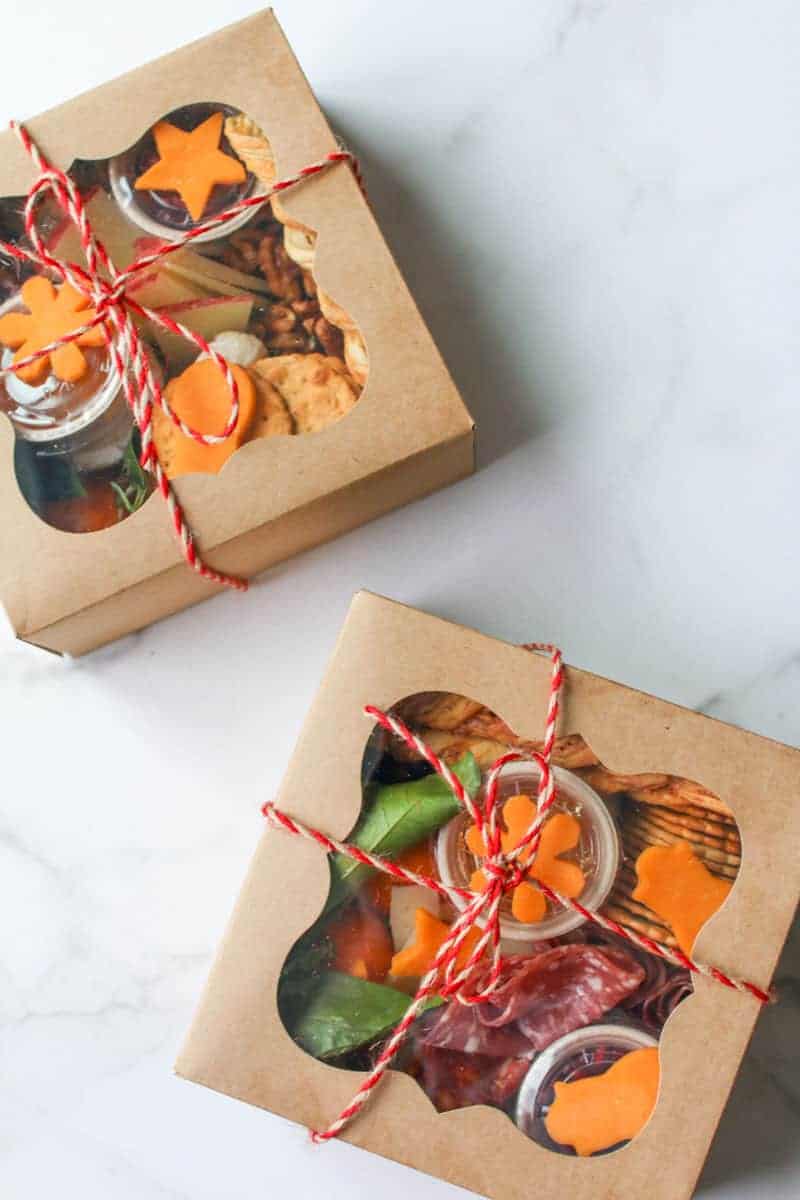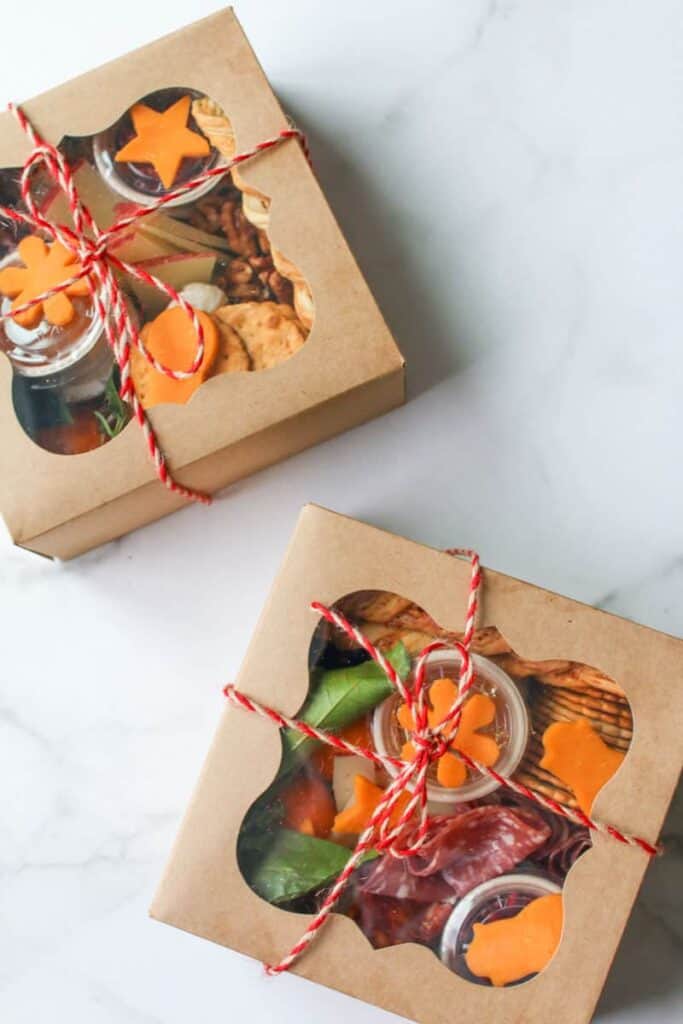 Looking for cheesy appetizers?
You have to try my Truffle Honey Baked Brie recipe. What could be better than hot melty brie baked until golden in crispy puff pastry with truffle honey?